App vs Website: Which Is Best For Your Business?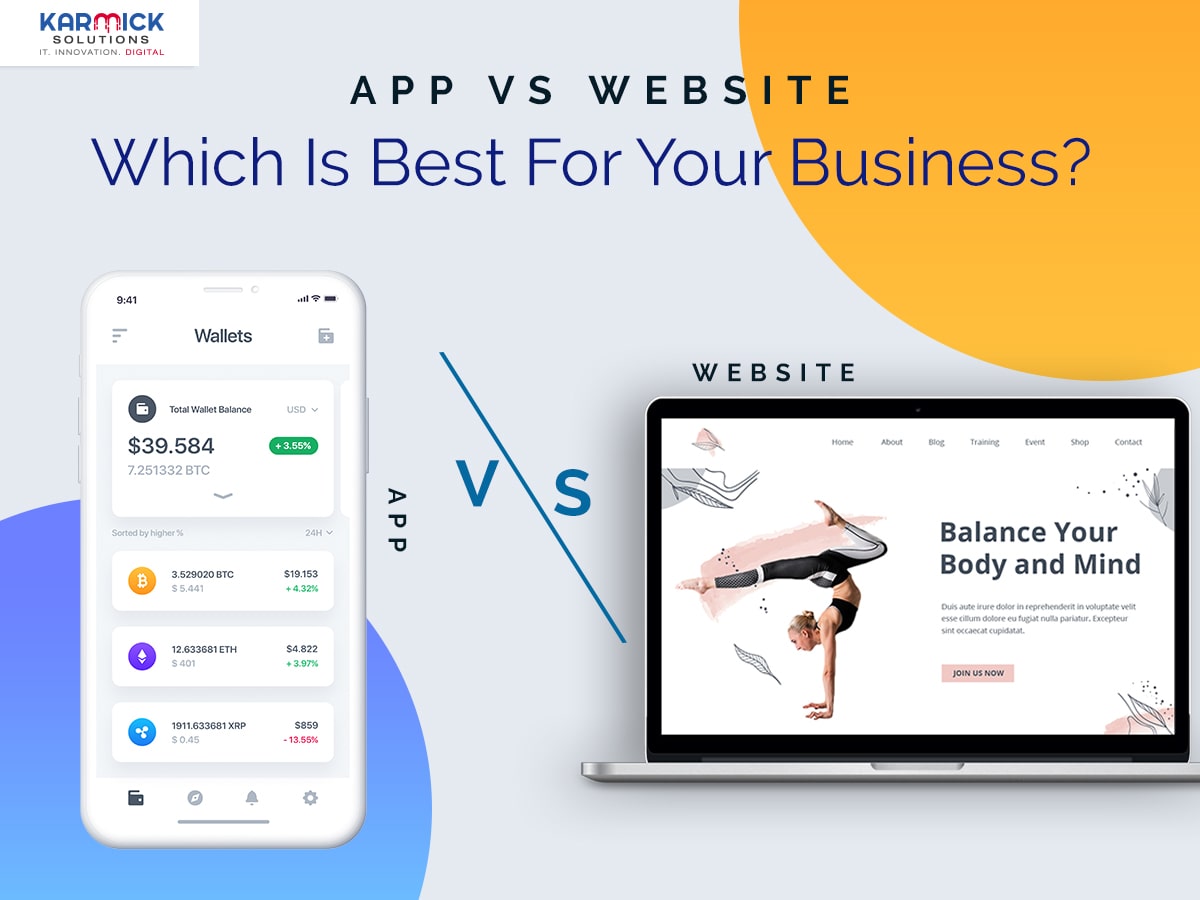 In today's modern era, if you own a small business or a startup without any digital presence, then your competitors are way ahead of you. It is high time to choose between a website or a mobile app that can take your business to the next level.
For someone who is looking to launch an app or build a website for their business might think that both of these are quite similar, so what's the big deal? You are absolutely right in thinking that. There are some striking similarities between mobile apps and websites.
Both mobile apps as well as websites allow you to share content directly on social media such as Instagram, Facebook, Twitter and LinkedIn.
The app as well as website are designed and optimized in such a manner that there is easy access on devices such as smartphones and tablets.
However, despite these similarities, there are some major differences which a business must take into account before deciding between an app and a website.
Reasons To Choose Mobile Apps Over Websites
Better User Engagement: Unlike websites, apps offer many more integrated features and allows users to have a better interactive experience. Think of a game for example. When was the last time you visited a website for playing a game? We are so used to downloading them from Google's Play Store or Apple's App Store in the form of an application and never a website.
Highly Customizable & Personalized: Once the user has downloaded your mobile app, you can offer a bunch of customizations so that he can have a better user experience. Small perks such as dark mode for mobile apps have become extremely popular these days and customizations are something which users often find lacking in case of websites. Similarly, by using Artificial Intelligence, the app can suggest tailored recommendations based on your activity, location, interests, etc.
Ability To Work Offline: Some apps, once downloaded, do not require a constant internet connection for them to function. For example, games such as Candy Crush or Temple Run. For streaming apps like Netflix and Prime Video, you can download your content offline and watch it later without streaming it on data. This consumes less power on your device and limits data use too. Websites, on the other hand, always require an active internet connection and it is quite annoying when the network drops sometimes and the website becomes completely unresponsive.
Push Notifications: If the user has given the app permission to send push notifications, then these can prove to be very useful. For example, we often get notifications about limited time deals on ecommerce websites like Amazon or Flipkart. Similarly, if you have food ordering apps on your smartphone such as Swiggy and Zomato then you will receive push notifications about coupon codes and latest discounts. However, if it is done in excess, it might irritate users and cause him to turn off all notifications for the app.
Using Device Features: Some apps ask for permissions about using device features such as GPS, camera and microphone. With the help of these, you can have an improved user experience with the app. Take the example of Google Maps. What if you are lost somewhere? Just turn on the GPS on your smartphone and open Google Maps. It will give you your exact location and even directions to find your way back.
Reasons To Choose Websites Over Mobile Apps
Wider Reach: A primary reason why businesses prefer websites over mobile apps is due to its widespread reach. For an app, you must have a smartphone or tablet on which you need to download it. Furthermore, there are some native apps which are either exclusive to iOS or Android. But when it comes to websites, you can open it from any device which has a browser and an internet connection. Owing to responsive design, the website optimizes itself to suit the needs of all devices from smartphones, tablets and desktops.
Cost & Maintenance: Websites are much more cost-effective than mobile apps and are easier to maintain at the same time. But for an app, you will notice that there is a need to frequently update it from the app store since it requires regular maintenance, updates and testing. Therefore, investment required in case of websites is lesser than what is required for mobile apps.
Enhanced Visibility: When it comes to visibility in case of search results, websites clearly take the cake here! When you look up a business on search engines such as Google, Yahoo or Bing, it will show you their respective website instantly. In the case of mobile apps, it is only possible when you search in the Play Store or App Store, which is something one seldom does given the fact that Google search is so popular.
Longer Life Cycle: Just like the shelf life of perishable commodities is limited, same is the case with mobile apps. Research shows that average shelf life of an iPhone app is only 30 days. Unless it is really good and helpful, people usually delete it from their phone to free up space. Although websites, once created, cannot be deleted in this manner. They occupy no space in the user's smartphone and have a much longer life cycle than mobile apps. The website can be visited as and when the need arises.
Better Shareability Options: When you come across an interesting article or blog on the web and want to share it with your friends, you can simply copy and paste the URL with a single click. It is that easy when it comes to having a website. With an app, shareability on social media is taken care of, but sharing it among your friends in this manner is not so easy. Your friend must also have the app or you have to resort to cumbersome methods such as taking screenshots.
Which One Should You Choose?
As for the final verdict in the battle between "Web vs App", the winner ultimately depends upon your business objectives. If you want to create a highly interactive, personalized platform with device features such as GPS and camera, then go for mobile app development. The number of smartphone users is expected to rise considerably in the near future.
If your business needs are marketing-driven and you aim to provide services which can be maintained easily on a platform with wider reach then a website should be your ideal choice. If you have the resources and a dedicated team, you may also create a website and launch a mobile app simultaneously.
Regardless of which one you choose, hire the services from a reputed IT firm with trusted web developers and mobile app developers to give you the best results for your business.