Best CMS (Content Management System) Platforms To Build Your Website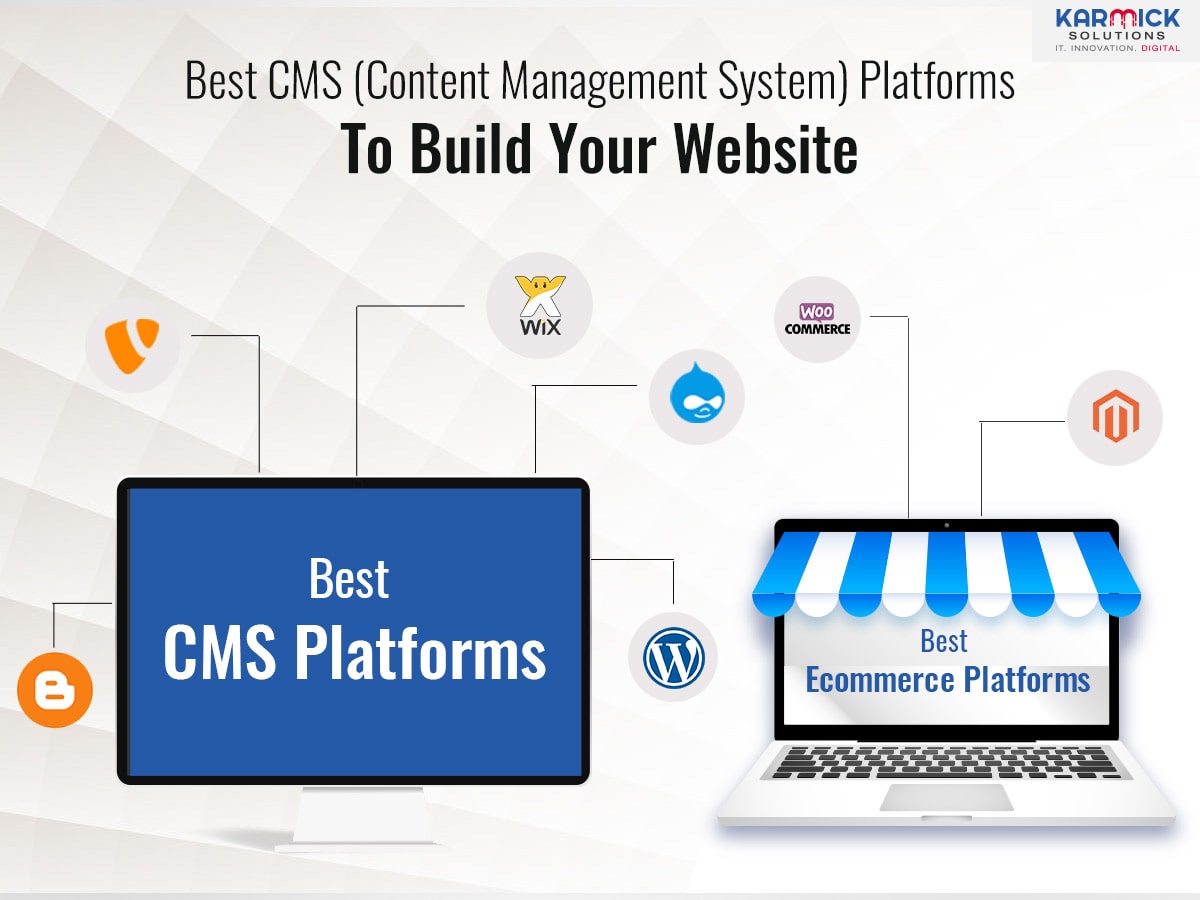 Are you looking to create a website for establishing an ecommerce store, rendering services or writing blogs? Whatever your needs are, you will have to choose a CMS (Content Management System) platform accordingly to build a suitable website.
Firstly, let us answer the question, what exactly is a CMS platform?
A CMS platform is basically a platform which lets you create your own website without the need to go through all the technicalities. For example, to create a website from scratch you will need thorough knowledge of JavaScript, HTML and CSS. CMS is such a software which allows you to leverage all the benefits of a website without learning these programming languages and writing code.
Since there are a lot of CMS platforms out there focusing on various needs, it is important to identify and choose the correct one. Before we dive right into comparing the most popular ones, here are the things you should look for in a good CMS-
Ease Of Use: If you are using a CMS platform then it is assumed that you don't come from a very technical background. This is why every CMS must have a simple, user-friendly, drag and drop interface which makes it easy for anyone to create and curate content.
Attractive Designs: Since it is not possible for you to create templates from scratch via coding, CMS should have a pre-built list of attractive website templates. It should allow for easy customizations as well.
Data Migration: A good CMS will allow you to transfer your data elsewhere if need be. You might want to move to another CMS in the future and in such cases they should allow for hassle free data transfers.
Feature Rich: Creating a simple website these days is not enough, is it? It must be rich in features which can be provided by CMS in the form of plugins, addons and extensions to improve over UI/UX.
Customer Support: Will you opt for a CMS platform which is infamous for lousy customer service? Of course not. Be sure to check this beforehand and select such CMS with a good reputation for solving customer's queries.
Pricing: Last but not the least, the cost of CMS platform is very important. Some charge a monthly fee while some, although free, have a lot of paid features such as web hosting, third party services, etc.
Best CMS Platforms
Having the highest market share for CMS platforms at 63%, WordPress is the world's most popular and number one choice. It is a free, open-source CMS originally designed for blogging but is now widely used for other needs such as multimedia, online store and even forums. Not to be confused with WordPress.com which is solely a blog hosting platform.
It offers you the flexibility to build any kind of website you want, choosing from over thousands of themes without knowing a single thing about coding. It is highly scalable so it suits the needs of beginners and advanced players alike. An added bonus is it's SEO-friendly nature which accounts for better Google search results.
Coming to a few drawbacks, you will need to set up your hosting and domain name by yourself much like you'll be solely responsible for managing security and backup. Choosing between the huge number of templates and plugins can be a bit intimidating sometimes, especially for beginners.
Popular websites built using WordPress- Microsoft News, BBC America, Skype, Vogue
The third free and open-source CMS platform on the list, along with WordPress and Joomla, is Drupal. It is a great option if you are looking to build a website which is highly customizable and needs to handle a lot of content at the same time. It has a very useful built-in user access system allowing you control of what registered users can do inside your CMS.
It actually allows many of the same advantages that are offered by Joomla such as flexibility and multilinguality out of the box. However, when it comes to things like taxonomy and security, Drupal outshines it's competitors WordPress and Joomla.
Some of the cons are that it's not very user-friendly when compared to WordPress since changing the appearance of your live website can get tricky. The learning curve is steep as well so definitely not recommended for beginners but for web developers.
Popular websites built using Drupal- Tesla, NASA, Twitter, Pinterest, Nokia
As the name suggests, Blogger is a free blogging CMS platform which is provided by Google. It is hosted by Google itself so there is no need to install and update anything or even pay for hosting. Blogs published on blogger usually have blogspot in their domain name but it is possible to use your domain name as well.
It is very simple and easy to get started with Blogger. You can have it up and running in just a couple of minutes. You can even include paid advertisements on your blog and have as many as 20 static web pages.
If you want to use Blogger for any other purpose other than blogging, it is not possible. The given themes are pretty basic and you cannot create custom themes.
All of Google products run on Blogger and it hosts many famous blogs such as TechCrunch, Python, Mashabe, Engadget.
Wix is an extremely simple, cloud-based web development platform which allows users to create both pc and mobile-optimized websites with ease. Very well suited for beginners who don't come from a technical background and want to develop a website from scratch. It is the only DIY CMS on this list.
It is so versatile in nature that you will find websites built on it in every sector such as food, transport, music and even ecommerce. Optimisations for SEO and mobile-friendly content is also a great advantage since many people view content on their smartphones these days. There are over 500 free templates to choose from along with free web hosting. There are multiple plans available to suit the needs of every budget.
However, there is a peculiar drawback. Once you select a certain template and your site is live, you cannot change it. You will have to go through each web page individually and modify it. If you plan to go for the free version, there are going to be a lot of ads on your website for which you are not going to get any revenue either.
Popular websites built using Wix- Animal Music, Cuts & Bruises, Crustz, Sergio Aguero
Typo3 is a free, open-source CMS platform which has been around for more than two decades. The USP of this CMS is it's scalability. This is why it caters to enterprise level websites which may also have intranet sites, that is, internal company websites.
It can handle really large websites without facing any trouble. It's a good option for large international companies who would want their website in multiple languages. There are more than 6,000 applications and extensions to choose from in order to add more functionality to your website.
The sad part is that you will need a certain level of expertise to use it and maintain it regularly. Without prior technical knowledge, you will not be able to handle Typo3. Also, there is a dearth of themes so you also may have to create your own from scratch.
Popular websites built using Typo3- Philips, Lufthansa, Hitachi, Deutsche Telekom
Best Ecommerce Platforms
If you are looking to build an ecommerce store on a CMS platform then Magento is one of the top contenders. It is an extremely powerful, open-source platform that can handle anything you throw at it. Created by the software company Adobe, it has a free licensed version known as Magento OpenSource as well as a paid version.
It provides unmatched levels of personal touch with robust security and all the essentials of an ecommerce store built right into it. You can handle large traffic of customers without any issues. There are many pre-built payment gateways options such as PayPal, bank transfer and cash on delivery.
Not at all suitable for beginners who are just starting their ecommerce store since it also requires technical knowledge and you might have to hire a developer for that. Furthermore, the paid plans of Magento are not very cost-effective if you are a small business or startup.
Popular websites built using Magento- Nike, Ford, Jaguar, Nestle
Perhaps the most popular ecommerce platform in the world, WooCommerce is the ecommerce platform for WordPress. Technically speaking, it is not a CMS in itself but runs as a WordPress plugin so you will need to be familiar with it in order to install this on your site.
It is best for converting an existing WordPress site into an online store. The integration is seamless and you won't face any issues. Since it is a WordPress plugin itself, it has access to all popular extensions and templates. With a developer-friendly REST API and two most popular default payments gateways- Stripe and PayPal, WooCommerce is best for selling all sorts of products be it physical or digital.
Although WooCommerce should work with any WordPress theme, it is recommended to only stick to those which are specifically created for it. If someone does not wish to use WordPress as a CMS platform, then they simply cannot use the WooCommerce plugin.
Popular websites built using WooCommerce- Porter and York, Barefoot Buttons, The Good Batch
So, which is the best CMS platform?
The simple answer is WordPress since it is the most widely used CMS platform out there. About one-third of all websites in the world are built using WordPress and the number increases to two-thirds if we take into account only CMS websites.
However, it all depends on your needs and the objective of your website. If you are planning to establish an ecommerce store then you might go for Magento, BigCommerce, Shopify, Weebly or Squarespace, instead of WordPress.
Similarly, if you want to create a blogging website then you might go for WordPress.com, Blogger or even Serendipity in case of small blog writers.
There are also other popular CMS platforms which might have just missed the list such as Bitrix24, PrestaShop, HubSpot CMS, Kentico, Textpattern, Ghost and more.
We hope that now you will be able to make an informed decision after this thorough comparison of all the major CMS platforms. Whether you want to create a custom CMS website or migrate from one to another, avail the services of a trusted CMS Development Company to get your money's worth.