Big Data and Machine Learning's Impact on the Future of Marketing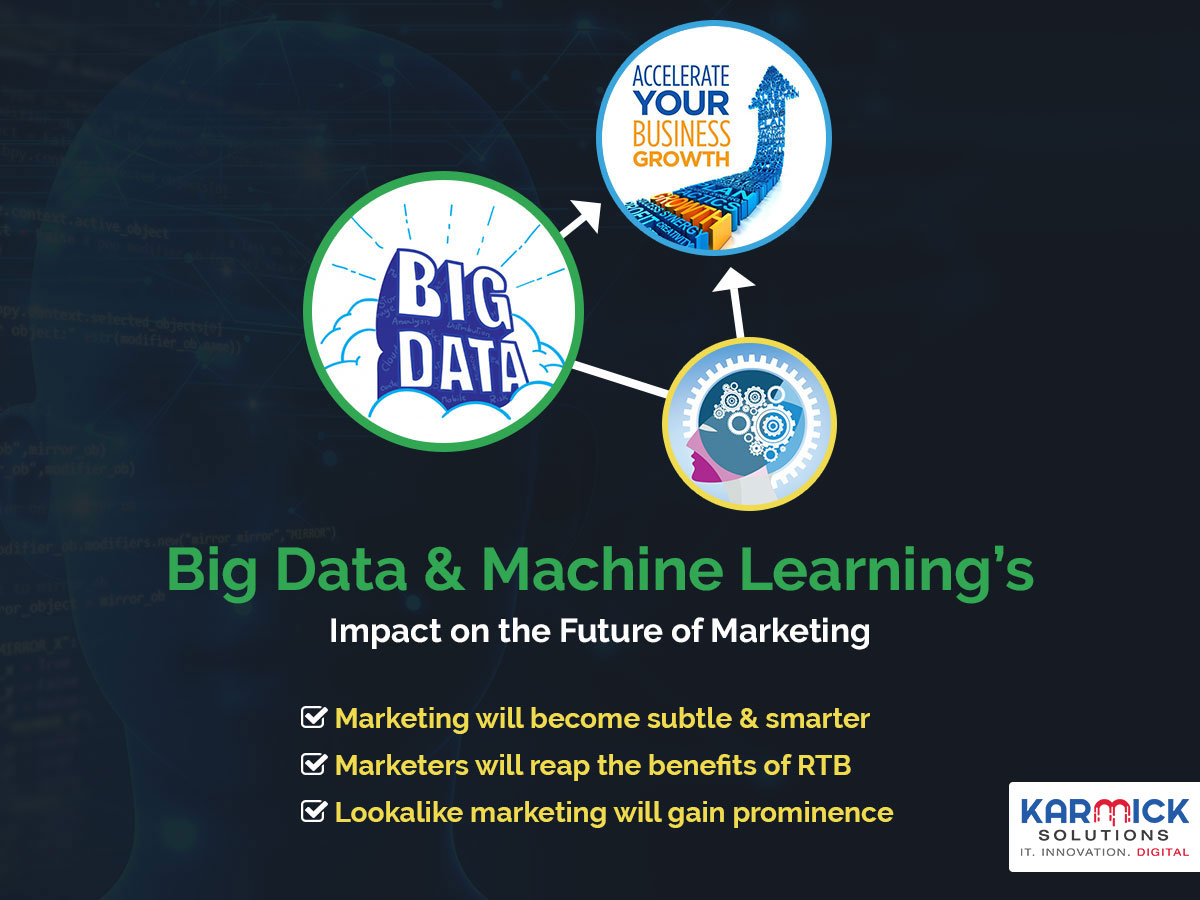 According to the recently published LinkedIn's 2017 U.S. Emerging Jobs Report, machine learning and Big data engineers are in high demand by various industries(both tech and non-tech). Big data and machine learning are not just buzzwords like in the past. Therefore, it is not surprising that several companies are competing against each other to leverage their potential in marketing. However, many have just a faint idea of how big data and machine learning can impact the future of marketing. So, let's have a look.
Big data and machine learning
While big data is a voluminous amount of data that demand sophisticated tools for storage and processing, machine learning is a fascinating field of artificial intelligence (AI) that enable computers to act without the need of any explicit programming.
Few examples of big data
Generation of 4,000,000 Facebook likes per minute
2.5 petabytes of data per hour by Walmart
6000 tweets per second on Twitter
400+ hours of video upload on YouTube per minute
Big data is also collected by sensors, log files, online transactions, and many more.
Few examples of machine learning
Self-driving cars, virtual personal assistants (Siri or Alexa), real-time traffic predictions, and more.
Now, let's discuss how these technologies can have a profound impact on the future of marketing.
Marketing will become subtle & smarter
"Marketing without data is like driving with your eyes closed"-Dan Zarrella, the award-winning social media scientist
Likes and shares no longer guarantee success in a distracted digital world. One has to devise and execute a smart marketing strategy to succeed. Big data along with machine learning help in improving the same with precision. The fact is that big data is massively unstructured and voluminous. Hence, businesses can't analyze big data without the aid of machine learning.
Big data analytics help businesses to gain useful insights like the following ones:
Customer behavior pattern that helps to understand how they make buying decisions
Needs and priorities of the customers that help in better customer segmentation and more
In near future, we can see more automated customer service. Insights from big data and machine learning have revealed beyond doubt that poor customer service is the main reason for not getting desired outcomes from a marketing campaign.
Zappos CEO Tony Hsieh used customer service to grow his online shoe company. He stated in an interview "We take most of the money that we could have spent on paid advertising and instead put it back into the customer experience. Then we let the customers be our marketing."
Businesses will stop blowing their own trumpet from the roof-top. There will be no need to tell the world that their services or products are the best. Everything will become subtle in its nature and marketing will become smarter.
Marketers will reap the benefits of RTB
As per a report entitled "The Programmatic Advertising Report" published by BI Intelligence, the overall RTB revenue will exceed $26 billion by the end of the year 2020. The report emphasized that both mobile RTB and video RTB are registering a rapid growth.
What is real-time bidding?
Introduced way back in 2009, the concept of Real-time bidding (RTB) has gained prominence today because of the evolution of machine learning algorithms. The bidding variant helps advertisers to buy and sell display ads in real-time as per some pre-specified parameters.
The RTB process is an auction setting in which every transaction takes less than 100 milliseconds! You can just imagine the terrific speed! After all, we need 300 milliseconds to blink our eyes.
Joe Martin-Head of social analytics at Adobe was not inflating the significance of machine learning when he said, "Of all the marketing technologies using machine learning and AI today, programmatic ad buying and improvement of ad spend allocation through machine learning impress me the most."
At present, advertising professionals use internet advertising with an aim to reach target customers without spending a fortune like in the case of offline advertising.
How will real-time bidding help in online marketing?
RTB will help digital marketing professionals in a myriad of ways.
Significant decrease in cost of marketing by not buying ad space in bulk that could prove of little use because of being viewed by people not interested in the displayed ad
An accurate estimation of each ad impression that eliminates wastage of time and effort involved in marketing
Ensuring better performance and an optimized budget by tracking campaign performance in real-time
An improved re-targeting by designing creatives for a specific segment of target customers
An ability to link display ads to other digital media campaigns like PPC, SEO, video, and more
Some businesses now use popular RTB platforms like DoubleClick Ad Exchange of Google to harness the power of machine learning. However, the future seems bright for other RTB Platforms too with more businesses realizing the potential of machine learning and big data in marketing to achieve a higher rate of success.
Lookalike marketing will gain prominence
You might have familiarity with the 'lookalike audience' feature of Facebook. Lookalike marketing is a type of marketing in which marketing professionals find new customers by machine learning.
This type of marketing is effective than re-targeting. After all, lookalike audiences have the same traits like your existing customers. Some of these are :
Spending habit
Age
Demographic location
Gender
Interests
Lookalike marketing will become popular in the coming years. Businesses will need lookalike marketing to acquire a new customer base to survive in a fiercely competitive world. At present, most businesses across the world use Facebook for lookalike marketing in a cost-effective manner. Apart from Facebook, there are several sophisticated tools called Data Management Platforms or DMPs. These DMPs use machine learning to find people who are like your existing customers.
In a nutshell, big data and machine learning will have an enormous impact on marketing by unlocking the mystery of customer psychology like never before.