COVID-19 Pandemic & Its Impact On Online Businesses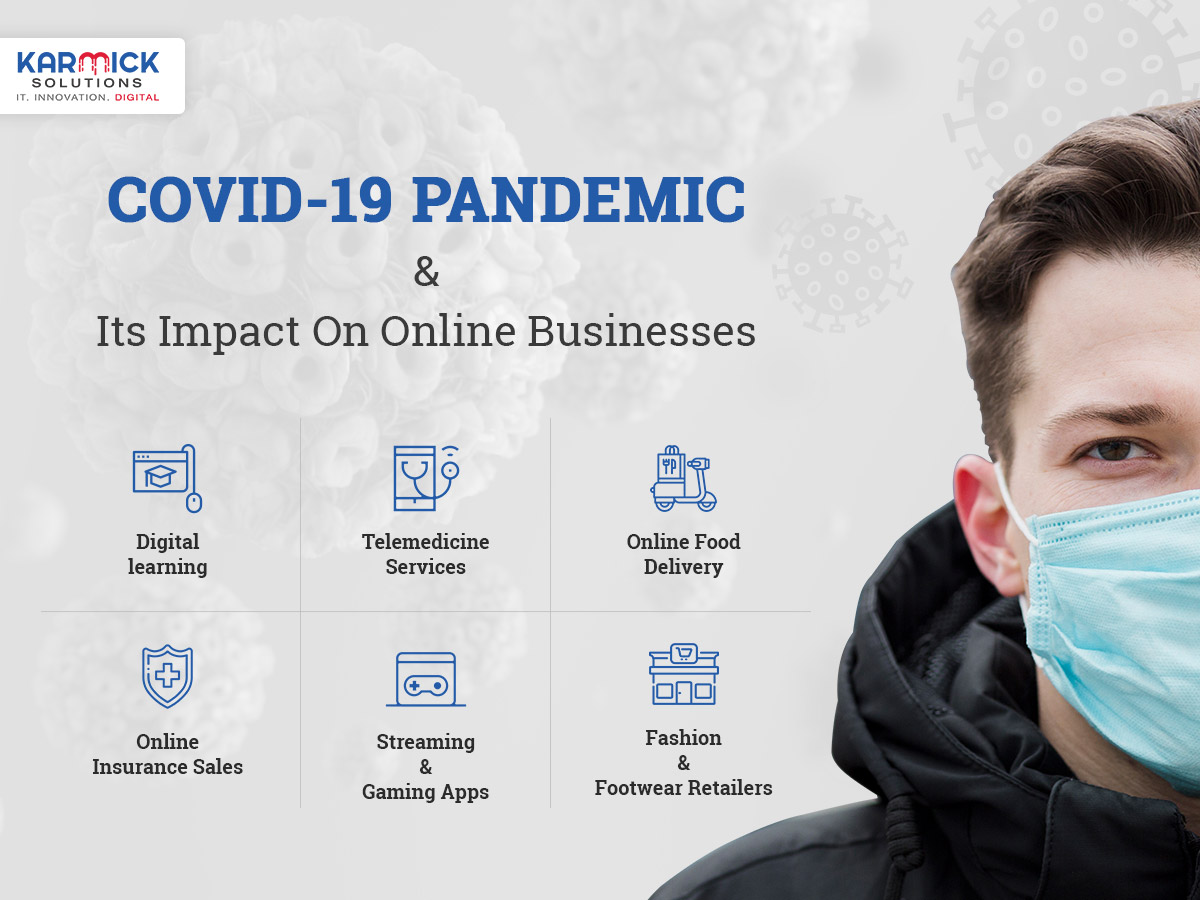 COVID-19 that has already claimed 1, 65,234 lives and infected nearly 2.4 million people worldwide has a devastating effect on all businesses, especially SMBs and the brick and mortar stores. Online businesses across the world are also grappling with severe challenges due to the lockdown measures and a huge surge in online orders for grocery items, medicines, protective gear, and other essentials. However, not everything is lost.
Online businesses are better prepared than brick and mortar stores to deal with the disruption. Most of these had chalked out business continuity plans (BCP) even before an official announcement of the lockdown measures, but many employees don't have the option of work from home. So, business operations are indeed getting disrupted at some levels. Some have even fallen to near-zero levels. If you are running an online business, it all boils down to the kinds of products or services that you are offering.
Let's find out the impact of the COVID-19 pandemic on online businesses in detail.
Digital learning solutions are becoming popular
With all schools and educational institutions shut down for a prolonged period, online learning is increasingly becoming popular. Students, teachers, parents are now looking for websites or learning apps that can help them in smooth online education. UNESCO has already offered a list of distance learning solutions that include apps, online learning platforms, and resources that could be beneficial for teachers, school administration, parents, and students to provide education during long periods of school closure. In some places, learning is also delivered via television and radio. While remote learning may not entirely replace traditional classrooms in a country like India where the digital divide is wide, this is presenting an excellent opportunity for IT solution providers to quickly deliver user-friendly and robust digital learning solutions.
Big boost to telemedicine services
The COVID-19 pandemic has brought a host of opportunities for online businesses offering telemedicine services. The health ministry in India has already issued guidelines for telemedicine so that the hospitals can be decongested in the wake of coronavirus and patients can receive a consultation via calls or text messages. According to Meena Ganesh, the M.D of Portea Medical, "We have been consulting on the phone but we didn't prescribe medicines until now. With the new rules, it is now possible". The boost is apparent as the outpatient services of some organizations have gone the virtual route because of the pandemic at some places.
Online food delivery is the new normal
In China, food delivery networks have grown by leaps and bounds. Millions of restaurants across the world are forced to shut their doors. Online food delivery has emerged as the only option to generate revenue in this crisis. According to Kabir Jeet Singh, CEO of burger Singh and Bowl Hub, "Yes, we have seen dine-in sales decline because of the social distancing advisory to combat the COVID-19 pandemic, but this decline in dine-in sales has been more than compensated by the uptick in delivery orders". Since it is not possible to deliver food in quarantine zones, many restaurants are also hiring staff or making use of technology to connect with their customers, ensure quick food delivery, and delivery information. Some are also ensuring contactless food delivery with stringent safety measures during food preparation.
A surge in online insurance sales
With lockdown measures and emphasis on maintaining social distancing, there has been a huge surge in online insurance sales. There is also a remarkable shift in consumer behavior which is encouraging insurance companies to step up their digital game. Many insurance companies are now using explanatory videos and video conferencing for client engagement. According to PolicyBazaar, a reputed financial technology company, there is a jump of 35-40% in health insurance and 20% in life insurance on its digital platform after the growing numbers of coronavirus cases in India.
Rising demand for streaming and gaming apps
If you are running an IT company, you may have already noticed an exponential increase in the demand for movie streaming and gaming apps in countries where people are now findings ways to get the right dose of entertainment while minimizing their chances of getting infected. Confined in their homes, a vast majority of people are now dependent on their smartphones. So, if you are running a business that offers video streaming services or immersive gaming experience, you are quite lucky!
Fashion and footwear retailers-Nowhere to go
With their doors closed for months and piles of stock in warehouses and stores, the future is bleak for the fashion and footwear retailers unless they start thinking out of the box. For example, some fashion retailers are offering virtual changing rooms to encourage their customers to order online and stay connected with them. Many of these items may soon become out of fashion. Even a massive discount may not help them to sustain their business post lockdown.
No one knows when all this disruption will be over. Predictions are all guesses made by analyzing the current situation. To survive in these tough times, entrepreneurs have to adapt their businesses as per the evolving situation at a blazing speed. It is high time to embrace technology and look for innovation. The overall economic impact due to COVID-19 can be significantly reduced if all businesses can manage to run even at a reduced capacity.