How Predictive Forecasting Can Benefit Your Business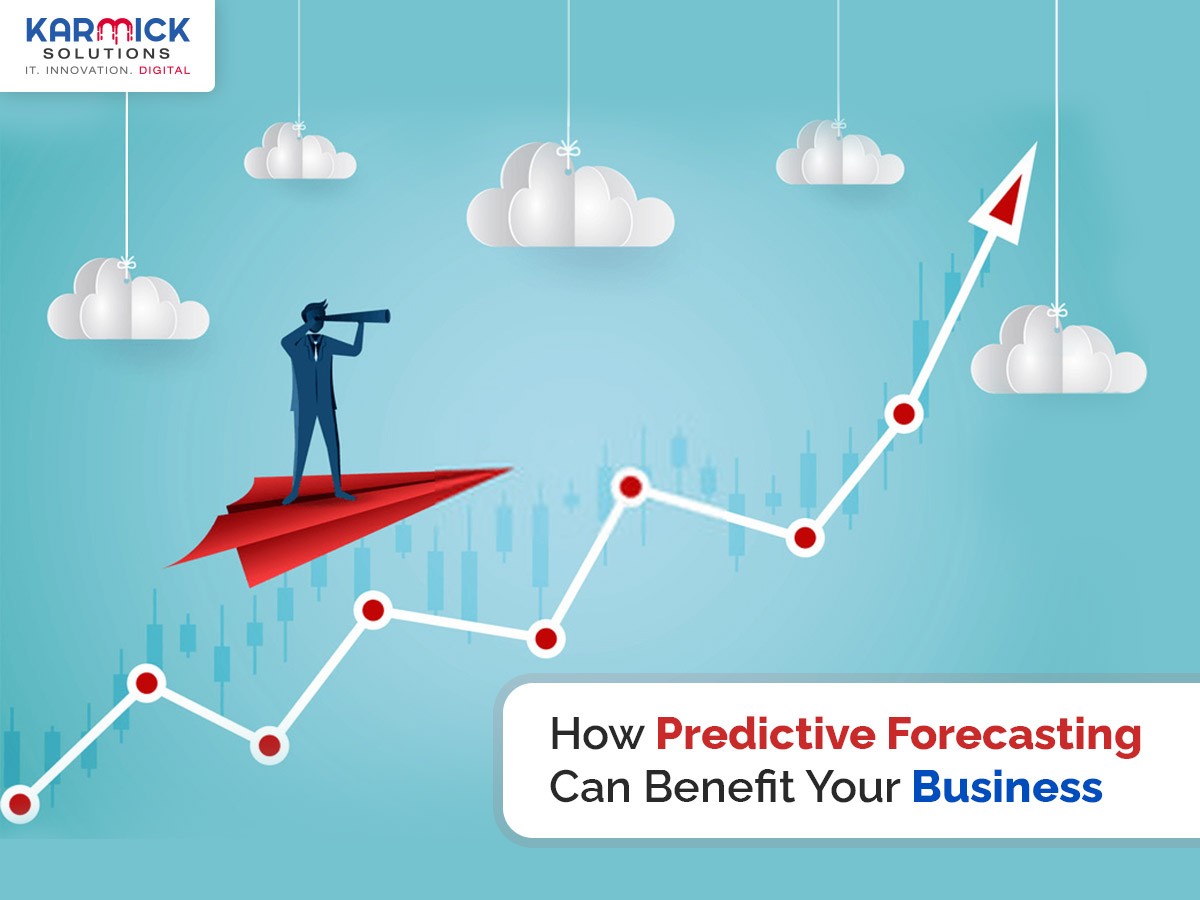 Have you ever wondered how Google offers you predictions the moment you start typing in the search box? We know this feature as auto-complete, but actually, this is the predictive search feature of Google. Similarly, the weather forecasting reports that we all trust before venturing out of our homes is an excellent example of predictive forecasting. This method of using historical data to find patterns to predict future happenings or outcomes is also now used in business. So, how does it work and has the potential to help your business? Let's have a look.
How predictive forecasting work?
In predictive forecasting, a robust mathematical model is built by data scientists that can capture vital trends by using historical data. Then, the model is used on current data to predict future events. For example, ARIMA models are predictive forecasting models. ARIMA stands for AutoRegressive Integrative Moving Average. It is a type of predictive forecasting model that uses time-series data. Some of the well known predictive forecasting tools that are available in the market are as follows:
EverString
Infer
Radius
Halo
IBM SPSS
Technologies used in predictive forecasting
A range of technologies are used in predictive forecasting such as machine learning (ML), Artificial Intelligence (AI), Big Data, deep learning, text analysis, and so on. Some of the programming languages that are implemented widely by data scientists are R and Python. Here, it is essential to keep in mind that while R is a statistical prohramming language that comes preloaded with Linear Regression, Logistic Regression, graphical facilities for analysis of data and its display, and much more, Python has emerged over the years as a highly dynamic language that comes with a robust library for forecasting.
Ways Predictive Forecasting Can Benefit Your Business
Although predictive forecasting can help your business in myriads of ways, here are a few that can help you to understand its potential.
Identify customers who are likely to abandon your services or products
Do you know that as per Statista, 88.05 % online shopping orders were abandoned worldwide in March 2020? Yes, this is a staggering figure and the worst nightmare of an entrepreneur. Sometimes, it also happens that a customer chooses to discard your products or services because of other reasons such as poor customer experience, poorly designed interface, and so on. So, if you use a predictive forecasting model, chances are higher that you can prevent such loss of revenue by improving the red flag areas.
Generate unbiased analytical insights to improve decision making
No one loves uncertainty. Be it life or our business, we all try every means to foresee the future so that we can make informed decisions. It is vital to understand that instead of taking crucial business decisions on just guesswork, it is best to rely on reliable tools or accurate insights that can help us to improve our decision making. Predictive forecasting tools do the same by predictive analytics and provide unbiased analytical insights, which in turn help the key decision-makers of a business to make accurate decisions that will prove profitable in rapidly changing circumstances. No wonder, Microsoft adds predictive forecasting to its Office 365 suite way back in 2014!
Identify social media influencers in your target market
According to a 2015 survey, it becomes clear that 46 percent of marketers struggle in identifying social media influencers to promote their products or services or to present their brand in a good light. Some people on popular platforms such as Twitter, Facebook, or Instagram have millions of followers. They excel in the art of keeping their followers engaged. While a bad review may destroy your online reputation, a quirky social media post created and posted by a teenager praising your products may go viral. With predictive forecasting, you can identify such social media influencers who can perfectly align themselves as per your business goals.
Identify potential customers for successful marketing campaigns
Email marketing is still one of the choicest strategies of digital marketing professionals for an increased return on their investment (ROI). However, it is not practical to send marketing emails to each of your customers, especially if you have a vast customer base. In such a scenario, predictive forecasting with business intelligence (BI) helps you to know the customers who are most likely to buy your product. So, then you could send your marketing emails only to those for retargeting. You can also know the best time to send your mails by using predictive forecasting.
Apart from the above ways, predictive forecasting can also help a business in strengthening its supply chain system by accurate risk assessment and prediction of possible disruptions.
Conclusion
In the recent few years, the use of predictive forecasting has grown by leaps and bounds. Even political parties and healthcare organizations are now using predictive forecasting to get rare insights into the future to make decisions so that they can maximize their benefits.
Business leaders across the world have already realized that they need predictive forecasting models to accurately predict future happenings at a given point of time. Based on those predictions, they must develop plans and strategies to ensure the success of their business. So, there is no doubt that if you use the same in your business, you will reap benefits. It is best to hire python developers from a reputed IT company to have the best predictive analytics software for your business.