'Karmickans' at their 'Best'
'Creating a unique identity' amidst the crowd is what Karmick Solutions Private Limited believes in. Be it office work or cultural events, we the employees of Karmick are always geared up to hit the floor. It was our 12th annual function where we celebrated Karmick's foundation day. We love challenges so our main concern was to make the entire event a successful one without compromising our office works. The event was graciously hosted by two of our very own friends who did their best to captivate the crowd.

Planning an annual program by involving each and every employee is never that easy as it looks. It needs hard work, perseverance and, team support and this is what we did, I mean the Karmick organizing committee enthusiasts. Really, great to find such active members in our organizations! We call this team of ours, 'Karmickans'. Well, this credit goes to none other than our CEO, Mr. Sourav Roy. He was the one to select team members to make the entire event a successful one.
A special THANX to Mr. Roy for letting us organize a great event that won several hearts. With unanimous support from our CEO, seniors and colleagues, we were able to make our event a successful one. Completing 12 years of unbeaten service is not an easy task. In order to celebrate the 12 year, Karmick organizing board members did put up a great show at Sujata Sadan Smriti Hall. The program started with the diya lighting ceremony by our CEO, Sourav Roy and one of the eminent directors of Tollywood industry, Mr. Gautam Ghosh. Soon after the felicitation, it was our honor to listen to Mr. Ghosh sharing his view points on a growing business on web designing and development.
Karmic Event team members mainly focused on putting up a program that is not only enthralling but refreshing as well. The celebration began with a traditional dance on Ganesh Vandana followed by a group song on Rabindra Sangeet. Audiences present in the hall were just mesmerized with these soothing and inspirational performances. As per their views, "they were just genius". None of them could take their eyes off from the performances put up by this Karmick troop.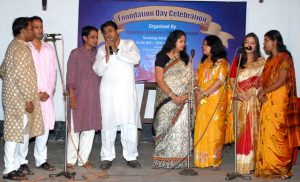 Next came up the most pulsating show of Karmick, 'the duo dance'. As this dance number was taken from the latest Tollywood hits, the audience kept tapping their feet all throughout. Who could expect such a professional dance performance that kept the spectators gyrating? This was not enough; can you imagine someone doing a smooth moonwalk on Michael Jackson's famous dance number 'Billie Jean'? The performer was believed to be a hardcore MJ fan. He couldn't just stop him from showcasing a mind blowing on-stage performance. Who knew that this employee would take away the best dance performance award of Karmick?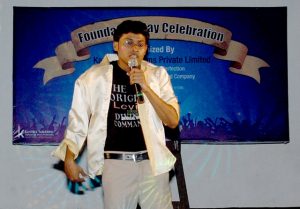 Have you got any idea what was the very next performance? It was none other than Karmick's 'famous three'. What a mind-boggling group dance! Audiences were just numb initially then with the vivacious beats of the music they went gaga over it. Can you believe, this music was a punch of three different dance numbers which was put up awesomely well by the stunning performers. Kudos to the choreographer who worked very hard on it! After viewing this amazing presentation, the spectators thought the choreographer to be a professional. But the fact is she was none other than our very own Karmick employee who took the initiative to put up great dance show.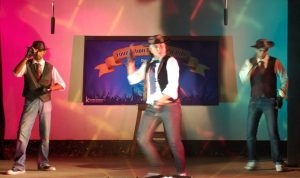 There are more blogs to come, so keep your eyes open for the latest updates.