Tips & Tricks To Hire The Best Python Developers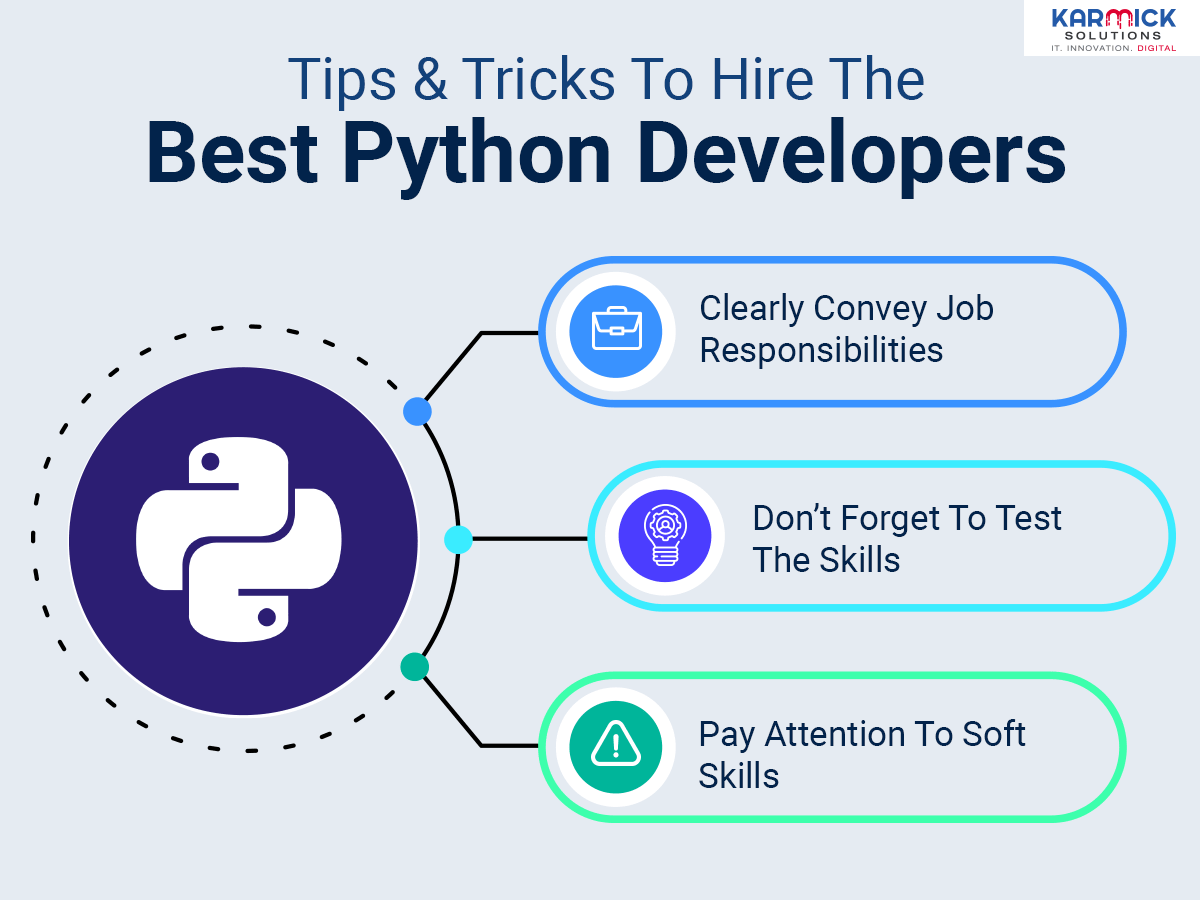 Are you planning to use Python for your next project? If yes, you need to be really cautious about hiring python developers as the task is not easy as it sounds. See, humans make mistakes but hiring an irrelevant developer could cost you both time and resources. Moreover, most companies make some common mistakes while hiring python developers. Some of these mistakes are like not giving due importance to soft skills and not defining the project complexity. So, here are some tips and tricks to hire the best python developers. Let's have a look.
Clearly convey job responsibilities
Since one can categorize python developers into data scientists, software engineers, Python full-stack developers, and machine learning engineers; make sure to specify the project specifications and job duties to the job applicants.
Remember, the job duties of each of these python developers are different from each other. However, sometimes it becomes tough to convey an accurate description of the same, especially if the project is too much complex.
Here, it is vital to remember that millennials are more comfortable leaving a job within two years. This happens when they find that there is no scope for career advancement. So, to attract the best industry talent, it is essential to convey the job responsibilities clearly to python developers.
Don't forget to test the skills
Before hiring any python developer, make sure to test the skills of the suitable job applicants by either assigning them a product mock-up or by asking technical questions related to python programming. They must have a basic or advanced knowledge of front-end technologies such as HTML5, JavaScript, and CSS3.
Unlike the inexperienced ones who are likely to stammer while answering the technical questions, experienced Python developers will feel at ease during the technical interview. Customizable python coding tests are also available that you can use to screen the candidates and to spot the best python developer for your upcoming project.
You can even set the difficulty level in such customizable coding tests as per the complexity level of your project. Testing the skills will ultimately help you to develop a clear understanding of whether they are going to fit your requirements or not.
Pay attention to soft skills
The best python developer is not the one who only does coding. So, apart from his or her technical skills, it is vital to pay attention to the soft skills. Also, if the project is large, you may need developers who had to work as a team. So, evaluate their soft skills to determine whether they are good to work as a team or not. Some of the vital soft skills you must look for are communication skills, time-management skills, teamwork, and self-motivation.
Yes, hiring the best python developer is quite challenging. However, things can be made easier if you choose to recruit smartly from a Python software development company to reach your business goals at a fast pace.
For many years, Karmick Solutions has successfully worked with several domestic and international clients to meet their needs of python development. So, if you want to hire the best python developers, just remember the above tips and tricks.