Top 5 Reasons Magento Is The First Choice Of Start-ups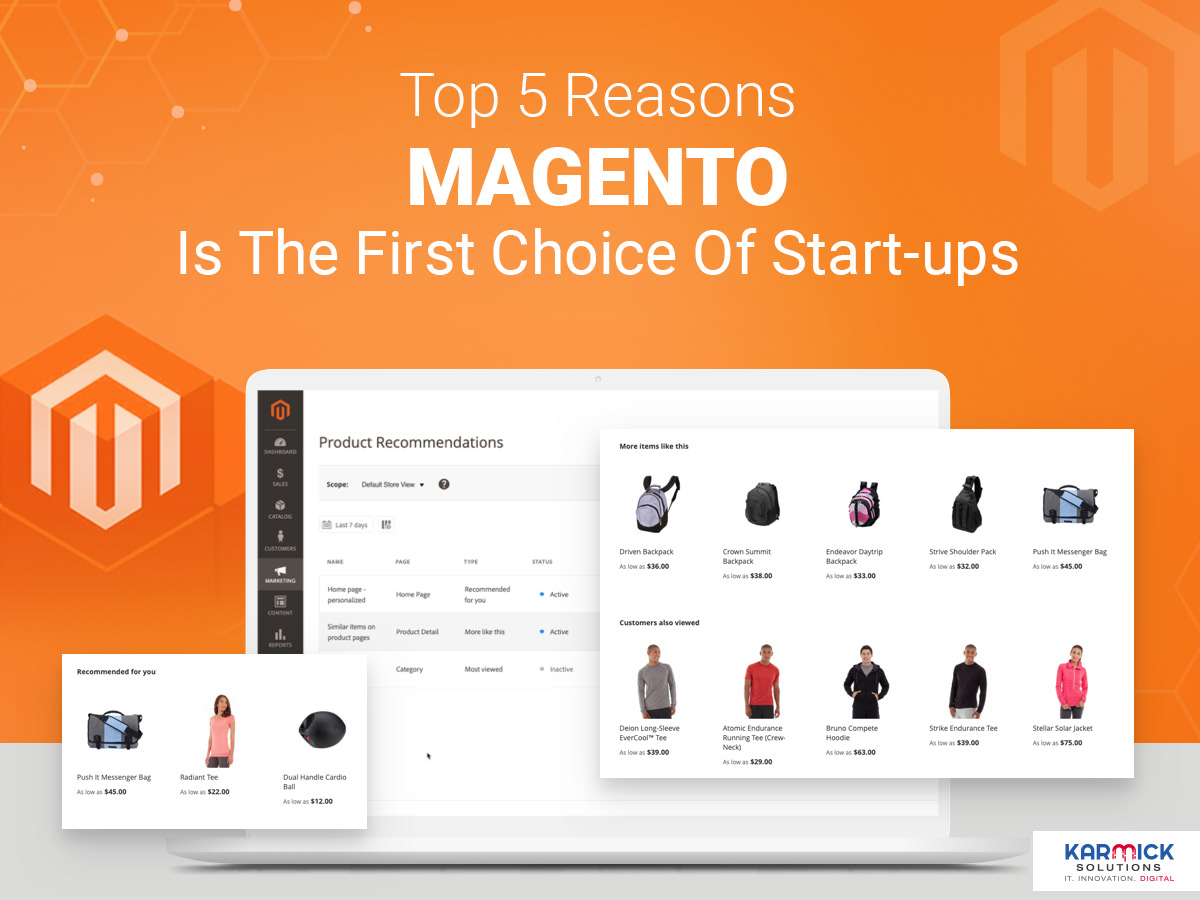 Investing in a new business idea is quite risky. Isn't it? Now, tell the same to an alumnus of Stanford University, and he or she will probably laugh loud! After all, Stanford university has the highest number of alumni who have founded highly valued start-ups. Almost every day, start-ups are born in garages, college dorms with little or no capital! Today, a lot of new businesses across the world are e-commerce start-ups.
While it was the convenient factor that has earlier fuelled the rise of e-commerce businesses, Covid-19 has made realized that the future is indeed bright for such start-ups. Plenty of such start-ups are trusting Magento, which is one of the leading e-commerce platforms to realize their dreams. However, here it is vital to know that Magento offers two major editions:
Magento Commerce(Earlier known as Magento Enterprise Edition)
Magento Open Source (Earlier known as Magento Community Edition)
Earlier, these were called Magento Enterprise Edition and Magento Community Edition. However, it is the Magento Open Source variation that is the first choice of start-ups. No doubt, Magento Commerce has far more built-in features than it, but it comes with a price tag that makes it uneconomical for start-ups. So, if you also have entrepreneurial interests in the e-commerce field, let's dig deeper to know the top five reasons for which Magento is the first choice of start-ups.
Mobile Friendly
According to the 2019 Ecommerce Year in Review, 65% of all e-commerce traffic comes from mobile phones. Isn't most people now spend a substantial time in their daily life on these devices. To achieve a better reach to its target customer base, start-ups need to have mobile-friendly stores. With the built-in feature of Magento's mobile-optimized shopping, it is possible to have the same in a hassle-free manner. So, when you choose Magento, you can focus on your mobile-savvy customers to flourish your start-up. It does not matter whether your targeted customers use Android-based phones or iPhones. Your customers will enjoy faster page loading, a seamless checkout experience, and breezy navigation!
Product Catalog Management
In e-commerce, user experience matters a lot. Sometimes, users have to face difficulties while finding a product on an online shopping site. For example, if they are typing 'blow dryer' and it is written as hairdryer on the site, they may not get the desired page result. So, you need to organize your products and manage them under the right categories for your users, which
is a herculean task. This is tough, especially if you have thousands of different types of products to offer! However, the free edition of Magento makes this a cakewalk for e-commerce store owners. It not only enables you to make customization of product categories but also helps you to manage other visual aspects of a product page for a high possibility of successful conversions.
Integrated Payment & Shipping
In e-commerce, everything will not fall in the right place if you are not able to take care of the payment and shipping aspect of your business. You need to accept the payments through various modes, offer a shipping solution, and process orders. This aspect involves money, and you can lose your reputation as well as customers if you are not careful. Without any help, it is not easy to integrate payment and shipping in your store because of technological complexity and the need for PCI compliance.
However, Magento comes with an integrated payment feature, which means as an entrepreneur, you can offer an efficient checkout experience. Magento facilitates the store owner to give both onsite and offsite payment options that maximize the chances of completing a sale and making it clear to customers that their convenience matters a lot.
Start-ups do not have the luxury of having a sophisticated warehouse operation to store, pick and pack orders, and Magento scores some brownie points with its shipping integration feature. You can create shipping labels for both new and existing orders easily from the admin panel of your e-commerce store. With Magento, you can even offer the convenience of package tracking to your customers!
High-quality free extensions
Apart from offering some ready-made themes or layouts for your online store, Magento also offer high-quality extensions without charging anything! Just think about the functionality that you want in your store to improve it further, and you will have it in the Magento marketplace. At present, there are more than 3400 extensions for the free edition of Magento, which is preferred by start-ups. Some of the categories for which you can have useful extensions to extend your e-commerce store includes site optimization, accounting and finance, marketing, customer support, sales, and so on. Imagine with the Magento marketplace, you can easily tap the potential of social media to increase your sales. You can have free extensions for promoting your products on various social media platforms such as Facebook, WhatsApp, Twitter, and so on!
Analytics and Reporting
For start-ups, one small mistake can ruin everything. So, it is all the more vital to have business insights on a daily or weekly basis. Magento has impressive reporting and analytics feature that lets you know the areas of improvement, the top-performing products, unnecessary expenses, non-performing products, and so on to keep the business on the right track. These analytics presented in reports also help in understanding your customers all the more. You can see a quick summary of all orders, your customers, and store products on the advanced reporting dashboard within no time.
In short, Magento offers you everything that you need to have an extremely affordable, robust, and customizable e-commerce store. So, are you ready to start a successful business in e-commerce? With Karmick Solutions, you can build a user-friendly online store and customize it as per your business needs. Trust our experienced developers for Magento development services at affordable pricing. Be it shopping cart development, Magento extension customization, or Magento theme development and integration, hire a Magento developer from us for all your e-commerce needs!