Top Mobile App Development Trends To Look In 2021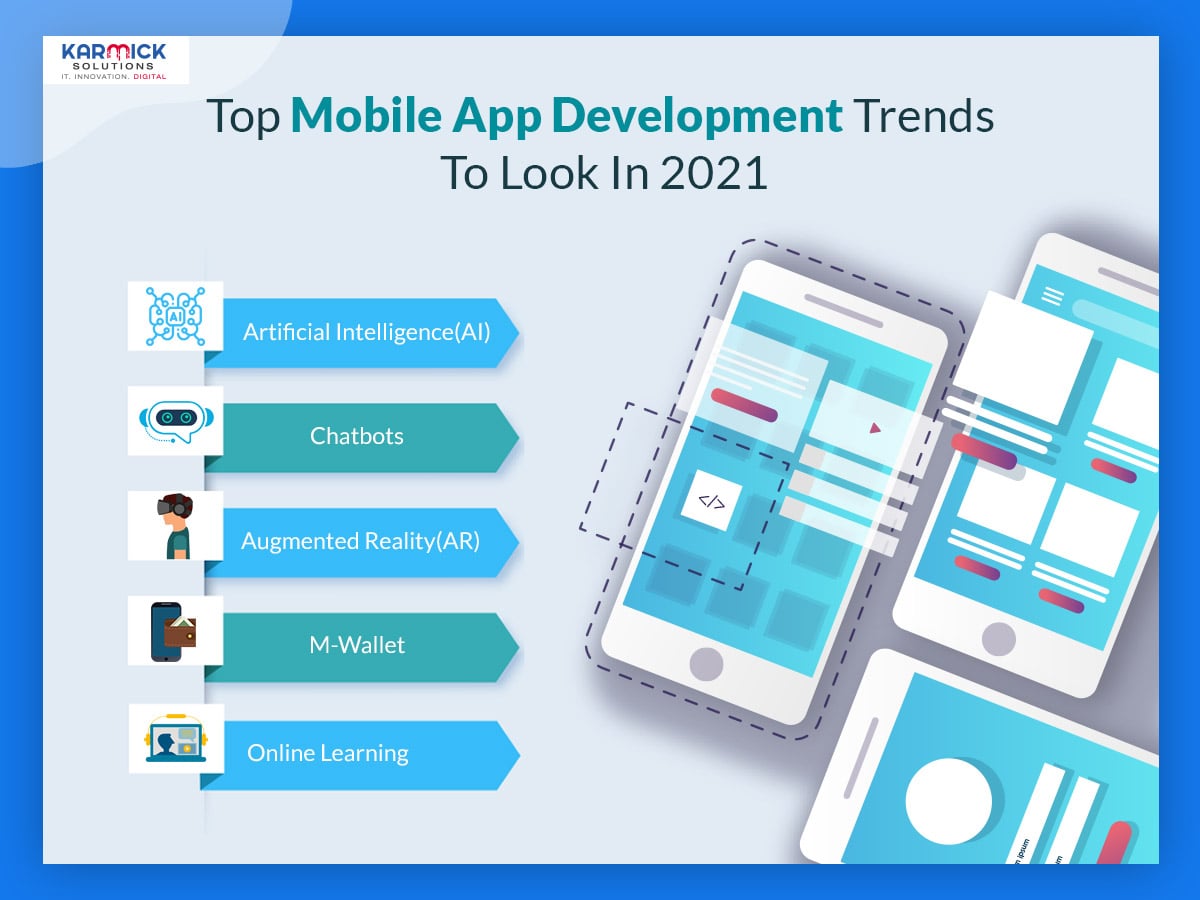 Over the past decade, mobile technology has witnessed a phenomenal evolution. Now, you can see mobile phones everywhere in developed and developing nations. It is the ease of use that has made many people addicted to these devices. You may have noticed how people are becoming increasingly dependent on their mobile phones in their daily lives.
Be it booking airport tickets or shopping, mobile devices have emerged as a one-stop solution. No wonder many people even prefer these devices over laptops and desktops. The pandemic has further increased the use of these mobile devices. Many businesses are planning to launch their apps to connect with their target customers.
Meanwhile, some app developers have even built some really innovative apps that make people almost hooked to their devices for hours. In this respect, it would be interesting to know the top mobile app development trends to look for in 2021.
Artificial Intelligence(AI) – You may be already aware of the FaceApp that adds a filter to show the user's younger or older version. The app is powered by artificial intelligence and has a total app revenue of over 1 million dollars. Many large companies like Google and Microsoft have recognized the potential of AI. They are already working on this technology, and the technology itself is evolving with each passing day. No surprises that mobile app developers are keen to use this revolutionary technology to offer a memorable user experience.
Chatbots – There is no shortage of buyers who want a do-it-yourself service to accelerate the pace of online shopping or booking. In such a scenario, chatbots have emerged as an ideal solution to this growing need. It enables human beings to interact with a bot like never before! So, more and more businesses are now adopting chatbots in their mobile apps. Moreover, the use of chatbots in mobile apps makes them versatile as they can be used in any industry such as banking, e-commerce, and much more.
Augmented Reality(AR) – Today, users are more inclined to merge the real world with the digital world. After all, who can forget how Pokemon Go makes people do crazy things! It was a gaming app that used augmented reality to blur the difference between reality and the digital world. So, more businesses are expected to use augmented reality to build apps that ensure more customer engagement. Also, using AR in mobile app development means getting an easier way to display intended information.
M-Wallet – With the surge in the usage of digital money, mobile wallets are now a trend. You may have already come across various mobile wallets that are popular such as Apple Pay, Google Pay Send, etc. Naturally, mobile app developers will develop more mobile wallets with robust features in the coming months.
Online Learning – There was an increase in online learning platforms in the last five years. However, the pandemic accelerates the pace. With schools, colleges, and other educational institutions closed, students are now looking for mobile apps by which they can continue to learn their favorite courses. Moreover, online learning has its own set of advantages, such as saving time, flexible learning pace, cost-effectiveness, and much more that are now recognized both by parents and teachers. Even, several coaching or private tutoring academies are now hiring mobile app developers for having online learning apps.
More than a billion apps have now a presence on Google Play, Windows Store, Amazon App Store, and the Apple Play Store. The top mobile app development trends will further fuel the growth of the mobile app industry.