Why Is WordPress So Popular?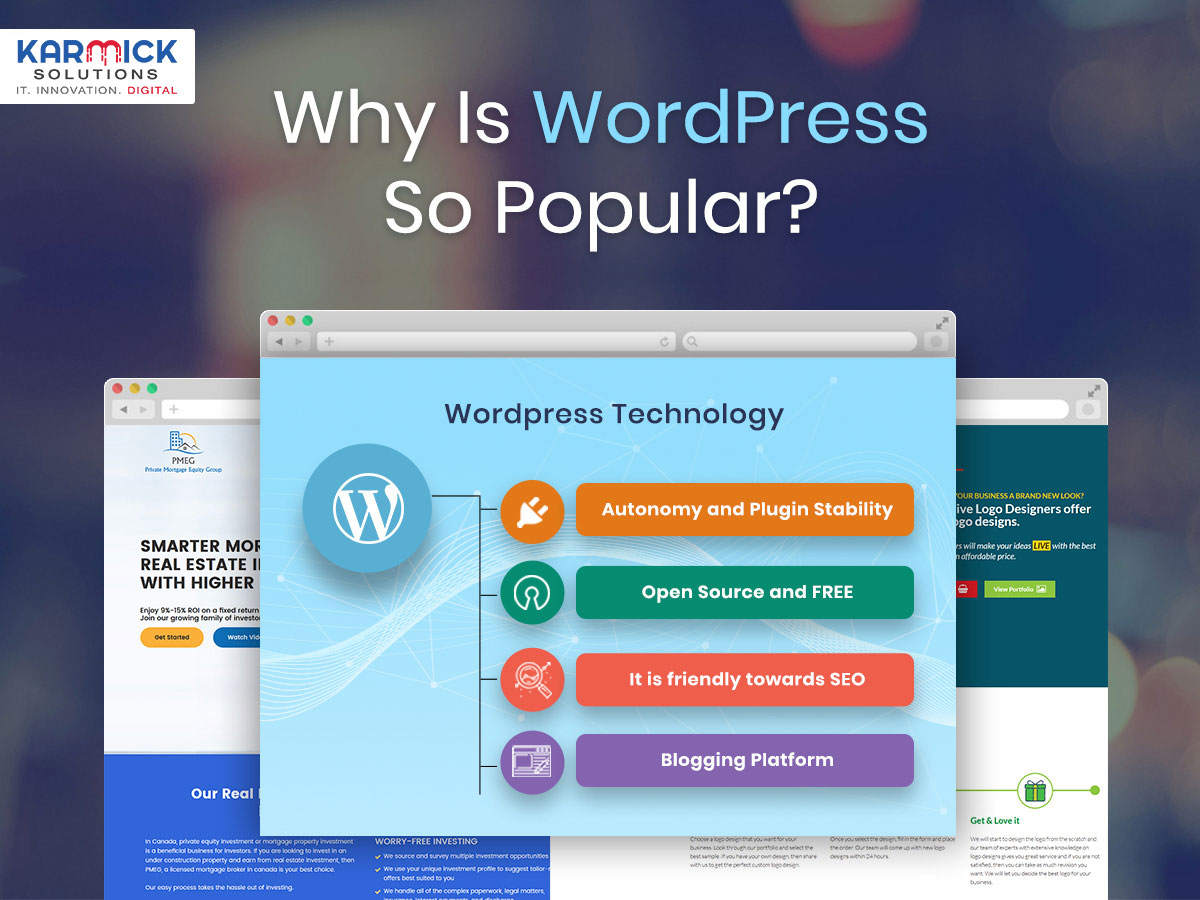 Hardly is there a business owner in the world today who has not heard of WordPress. It is a content publishing system that is open source or free. In 2003, it was created by merging the platforms by entrepreneurs and developers Matt Mullenweg and Mike Little. Consequent to its creation, each subsequent upgrade has incorporated powerful features such as mix-and-match plugins, media management, widgets, built in theme installation and static pages.
Autonomy and Plugin Stability
One key element of WordPress plugins is that they do not need other plugins which may or may not need constant updates. This means that the user does not have to spend a lot of time on maintenance and extra monitoring. Online businesses which cannot afford costly maintenance or downtime should always opt for WordPress as their go-to platform. If the database is being backed up manually, an average multi-plug-in update will take about 15 minutes. A backup plugin would reduce that time span to a few minutes with a few seconds required for customary maintenance.
Open Source and Free
WordPress is free to use, redistribute and edit. This is the reason why its original source codes are publicly available. There is no validity limit on WordPress. It is easily downloadable from its official website.
Most hosting companies provide a one-click installation solution for WordPress.
Great Flexibility and Highly Customizable
WordPress has a flexible framework. It allows developers and designers to modify and create applications and layouts. Its websites are not limited by enterprise extensions.
It Is Friendly Towards SEO
The CMS is written with code which is of very high quality. It leads to semantic markup which in turn makes any site rank higher in search queries and if that isn't enough, WordPress can be further made even more SEO friendly by using the SEO Plugin.
It Is Easy to Use on Any Device
If a business chooses to be competitive on the internet, it needs to be mobile friendly. Given the fact that an overwhelming majority of internet users access the web via their smartphones, websites that are trying to attract their key demography not only have to be mobile friendly but have to also provide an engaging and enriching experience to their customers on the small screen. WordPress by its very design is 100% responsive and will adapt to any and all screen sizes.
Themes
Themes allow users to have a well built and good-looking website at the click of a button. Whether it be a full-featured powerhouse that has prepopulated images and content or minimal and lightweight frameworks, themes run the entire gamut. With the help of a theme, even an amateur can build a professional website within minutes.
Blogging Platform
WordPress is primarily used as a blogging platform that allows web developers and webmasters to use the same to extract external links. This means this platform can greatly benefit any site that they are trying to improve. Today, it is one of the best web content solutions when it comes to blogs and as a content management system, it powers a wide array of websites. The blogging page can also be used for business reviews, advertisement, business sites, announcements and job boards. With WordPress, the options are unlimited.
Multiple Websites
On the same installation, WordPress allows us to host multiple websites. This greatly reduces cost. As an example, we can create multiple websites for each of our sales agents and control them all from the same installation.
As is quite clear from the aforementioned points, WordPress is a hugely popular CMS with umpteen number of developers using the same to offer solutions to their clients. With every passing day, more and more programmers are adopting WordPress as their go-to CMS framework.