6 Best User-Friendly eCommerce Website Builders For Small Businesses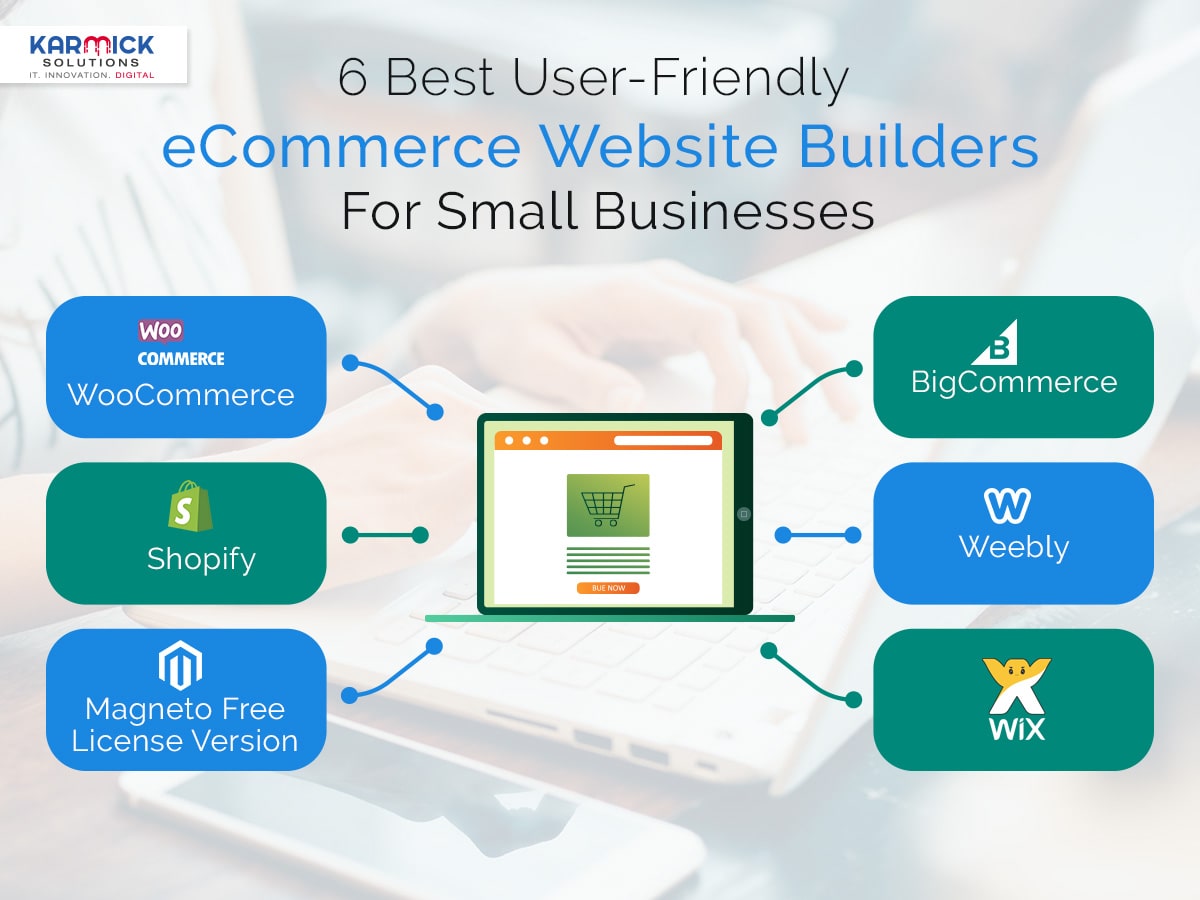 If you own a small business or are planning to launch a startup, it is important to have a website; now more than ever. Your customers would be looking you up online and having a website makes you relevant and look professional.
With the advent of technology, you don't need to be a coder or a UI/UX designer to own a fully functioning, attractive website. You can simply use an e-commerce website builder to do everything for you such as setting up product pages and payment gateways.
Following are the top five most user-friendly ecommerce website builders which would be ideal for a small business.
WooCommerce
Some of you might be having a website on WordPress and wished that your ecommerce store could be set up from there? Well, WooCommerce does exactly that. It converts your existing WordPress powered website into an online store.
If you have a website on WordPress for a while, then handling WooCommerce shouldn't be any issue. It integrates seamlessly. Being a WordPress plugin, WooCommerce has access to all the popular WordPress extensions. This open source platform is highly flexible and scalable with a developer friendly REST API.
Unlike the others mentioned before, there is no direct pricing for WooCommerce. It is free for all to install. However there are certain kinds of fees associated such as developer and maintenance fees, paid templates, designs and so on.
Shopify
Shopify is a popular ecommerce website builder that can take good care of any business website be it large scale, small scale, product oriented or service oriented. It is a great end-to-end ecommerce solution with packed features such as free website hosting, SEO and marketing your products through advertising and other tools. There's the added bonus of viewing customer analytics as well.
One area where Shopify users do face some issues is while uploading images to their website. Since the auto crop and resize feature is missing, images may end up looking out of place unless you resize them manually beforehand. Unlike Wix, they have limited templates to choose from.
It also offers a Shopify Lite plan which starts from as low as $9 per month.
Magneto Free License Version
Magento is almost a pioneer website builder for ecommerce stores. It is next to impossible to talk about ecommerce without mentioning Magento.
First thing you should know before dealing with Magento is that it's not suitable for beginners. You will need thorough knowledge about web development and coding even to use the free version. It is absolutely worth the effort since it provides an unmatched level of customisations, thousands of extensions and all the essential features of an ecommerce store along with cloud support and customer support.
There are a couple of drawbacks though such as the steep learning curve and complex features when compared to other ecommerce website builders. Also, if you decide to go for paid add ons or the premium version of Magento, then it can be costly from the viewpoint of a small business or startup.
BigCommerce
If you own a small business and want to build a scalable website that grows alongside your business then BigCommerce is the website builder you should go for.
The software grows and scales as and when your business does, with new and advanced features being added such as in depth SEO optimisation. You can directly sell on platforms such as Facebook and Pinterest as well as choose your own payment gateway with no transaction fees at all.
Since setting up each page of the website requires technical knowledge, it is definitely not an ideal choice for beginners. If you are looking for a simple solution to build a small ecommerce store, then BigCommerce should not be your first priority.
Weebly
If you own a small business or startup and are unsure as to how to proceed with your ecommerce website, then choose Weebly. It allows you to build an ecommerce cum informational website.
Weebly is a good choice for beginners since it gives you a bunch of tools you can use without unnecessarily complicating things. No technical background is required for accessing features such as SEO and marketing campaigns. The starting price is also the lowest among this list with just $6 per month.
However, Weebly is only a basic ecommerce website builder which might not be very suitable for complex products, services and for creating a highly personalised website. It executes the simple and basic needs of a small business very efficiently.
Wix
Some of you might have seen the Wix advertisement before hitting the Skip Ad button on YouTube, but that's okay.
Wix is an ecommerce website builder which is as simple as it gets. Any person from any background can create a website via Wix, owing to it's super easy drag and drop user interface. The website is also SEO friendly so you can start attracting traffic right from Day 1. There are hundreds of free templates to choose from, free web hosting and no commission sales. These great features offered by Wix make it the best choice for beginners.
However, there is one thing you should keep in mind. Once you select a particular template and it's live on your website, you cannot change it. In order to do so, you have to redo all the pages once again.
Besides the above mentioned ecommerce website builders, there's also other popular ones for small businesses such as Squarespace, 3DCart, Ecwid, GoDaddy, Volusion and Big Cartel. You may choose any ecommerce website builder keeping in mind your priorities and how well does the website builder suit your business.
Gone are the days where only big brands had their own website. Now is the time to create a website for your brick and mortar store, startup or small business. But yes, if you wish to create a highly professional and customizable website, make sure to hire a reputed ecommerce web development company to fulfil all your needs.