Top 5 Reasons Why Your Business Needs an eCommerce Mobile App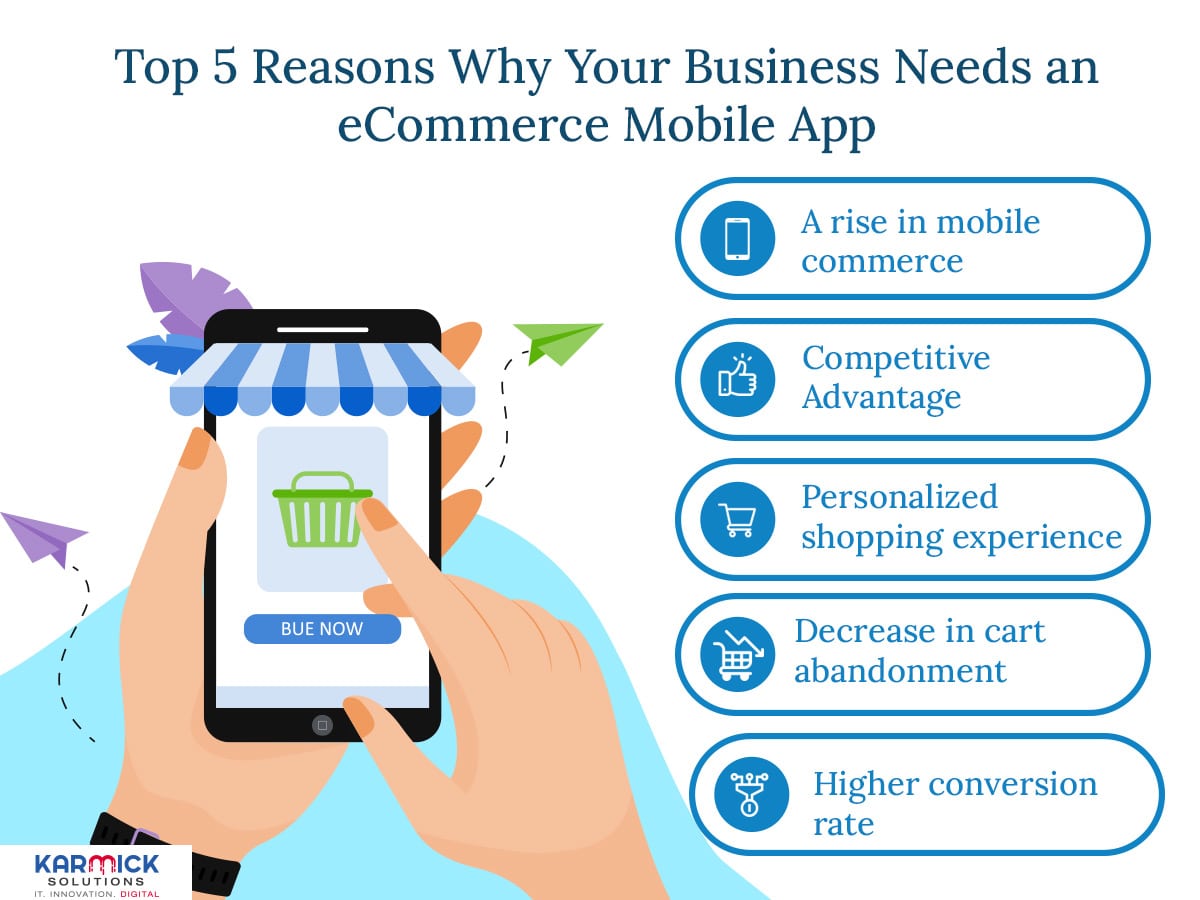 Since the pandemic outbreak, businesses worldwide are forced to abide by some restrictions to mitigate the risk of infection. In such a scenario, having just a high-performing website is no longer sufficient to sustain or thrive. So, when even retail businesses are depending on the digital mode, there is no reason that you don't felt the need for an eCommerce mobile app. If you don't have it yet, you are seriously missing some growth opportunities in this tech-driven world. Here are the top five reasons why your business needs an eCommerce mobile app.
A rise in mobile commerce
A substantial part of the urban population now prefers to shop while on the go. Most of these purchases are made via eCommerce mobile apps. According to the Synchrony 2018 Digital Study, a whopping 67 percent of consumers already had a retailer app on their devices. Maybe in developing countries, people will stop carrying their physical wallets altogether.
Competitive advantage
People are already comfortable to shop various products with their mobile devices. Be it their favorite food during the lunch hours at the office or a piece of furniture from an online store, there is absolutely no hesitation as was in the past. No wonder, in a post covid era when people will be skeptical about visiting physical stores, a high-performing mobile eCommerce app can certainly help your business.
Personalized shopping experience
Every mobile user now wants a personalized shopping experience. Many eCommerce giants are already delivering the same by offering them customized home pages created according to their purchase and browsing history. With an eCommerce mobile app, you can also floor them with push notifications, brilliant UI/UX, and many other tactics.
Decrease in cart abandonment
Cart abandonment is a harsh reality. Even a delay of a few seconds in page loading causes abandonment of cart in the world of eCommerce. Sometimes, a lengthy payment procedure or a compulsion of creating an account becomes the sole reason for cart abandonment leading to severe loss. However, businesses are fixing this age-old problem by opting for mobile apps that allow smooth payment transactions and enable purchase without any registration or login.
Higher conversion rate
Whatever you spend on hiring a mobile app developer or implementing a meticulously developed marketing campaign, the numbers are always in your mind. You just can't ignore that sales conversions are significantly higher during shopping via a mobile app. Some of the product categories for which the conversion rates are higher are educational apps, health and fitness apps, weather apps, etc.
Believe it or not, but playing the wait and watch game will no longer help you to make the most of this digital trend. Also, when a vast majority of your target customers have a smartphone, ignoring the benefit of reaching them at any time and place is not a wise business decision. To have a desired mobile app for your business, it is critical to hire eCommerce app developers having considerable expertise and experience.