Benefits of Progressive Web Apps For SMEs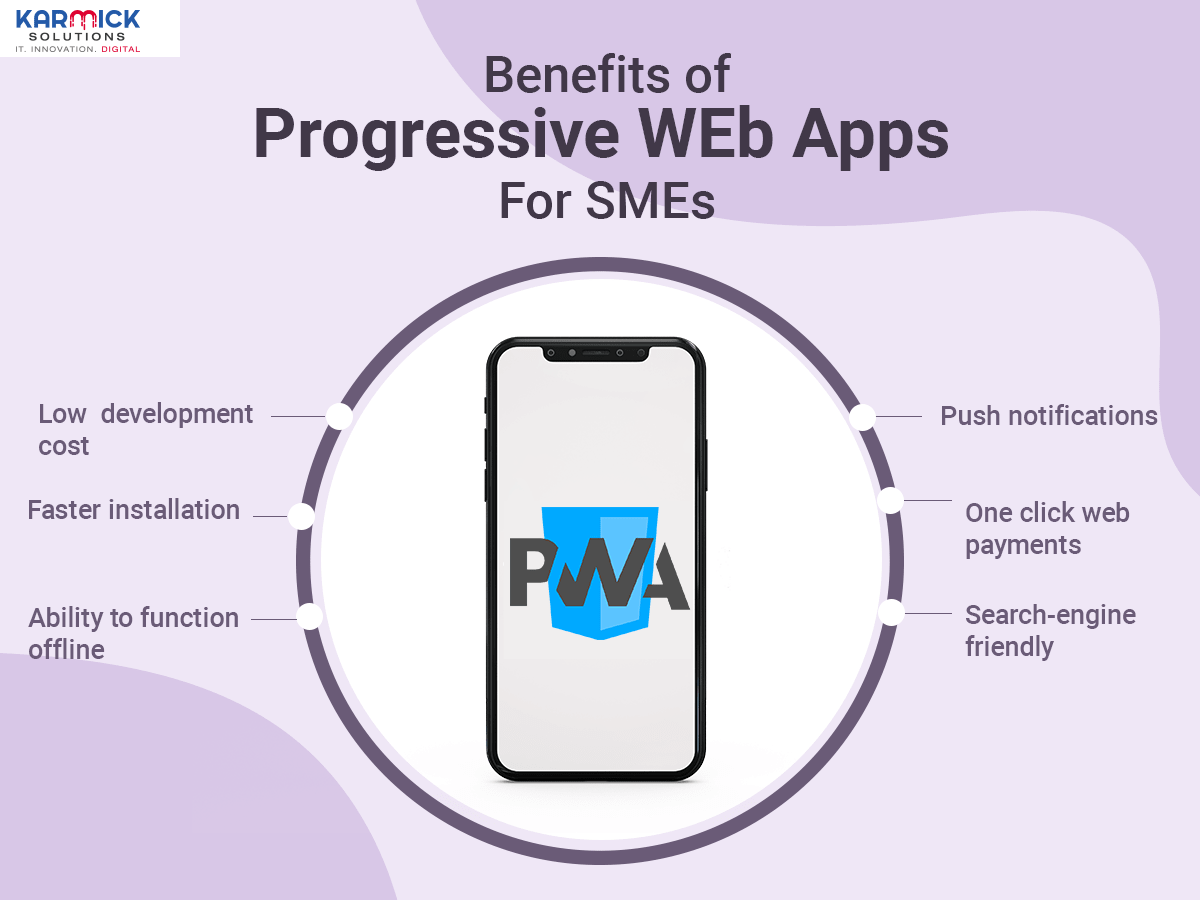 Do you know what is common between Starbucks, Housing.com, MakeMyTrip and Uber? No need to scratch your head as the answer is progressive web app (PWA). All these companies are leveraging the power of PWA. It is unbelievable but true that Starbicks PWA is 99.84% smaller in sze than its existing iOS app and has resulted into doubling the number of customers who place their orders each day. After all, PWA is technically one-page website that look and feel like a mobile app because of modern web technology. According to a 2021 survey report "The Future of Mobile Commerce", it is expected that the adoption of PWAs will rapidly grow in the coming years. About 58 % respondents told that they are already familiar with PWAs. So, if you are an entrepreneur who runs a small enterprise and yet has not leveraged the advantages of these progressive web apps, let's have a look at the benefits they offer.
Low development cost
As a small entrepreneur, you have to build a website that can run smoothly on a desktop, laptop, tablet, and smartphone. May be you feel the need of a mobile app too that runs on Android or iOS platform to provide a better user experience but when you opt for a progressive web app, there is no need to invest seperately for a website or mobile app. Remember, a progressive web app has the features of a mobile app and functionalities of a website. So, when you opt for a progressive web app, there is a significant drop in the overall development cost.
Faster installation
Unlike regular mobile apps that need to be downloaded from the Google Play Store, PWAs are less complex. A user can download it straight into his or her mobile device without paying visit to the Google Play Store and this leads to faster installation and improves user engagement.
Ability to function offline
PWAs are very likely to retain consumers and build customer loyalty for they have the potential to operate in a seamless manner, which is offline operation. Unlike websites that require uncompromised internet connection, with PWAs we have built-in service workers to cache essential and important information of the app automatically and that means consistent access to information even without an internet connection.
Push notifications
Native apps always had the upper hand over Web apps with the significant feature of Push Notifications. Not anymore. PWAs allow your business to use web push notifications for personalized communications with website visitors. The notifications are similar to that seen with native app notifications and enable businesses to engage with web audiences offering higher value.
One click web payments
Many studies show that users want a simplified yet secure payment process. Here is where PWAs also shine. PWAs are equipped with highly secure yet straightforward web standards making purchasing a breeze for users. The web payment functionality uses stored address and payment details rather than demanding the users to fill in all the details in a check-out form. Since this is a developed standard that is native in the web browser, the check-out experience is quick, consistent and secure for all users. Businesses also benefit from offering a variety of different payment options that operate on various devices and browsers.
Search-engine friendly
Since progressive web app is a website, it should be discoverable in search engines. This is one of the major advantages over native applications, which still lag behind websites in searchability.
Cross-platform availability
When it comes to developing PWAs (Progressive Web Applications) you don't have to invest in developing different versions for various devices as one app will fulfill the requirements of diverse operating endpoints. This will certainly cut the development.
Clearly, progressive web applications offer so many benefits for SMEs that it is almost impossible to ignore them, especially when use of mobile devices has skyrocketed and much of the user traffic is derived from the same. So, if you also need a progressive web application to offer an immersive user experience and grow your business, get in touch with a progressive web apps development company.