Internet Of Things To Reign Supreme In 2019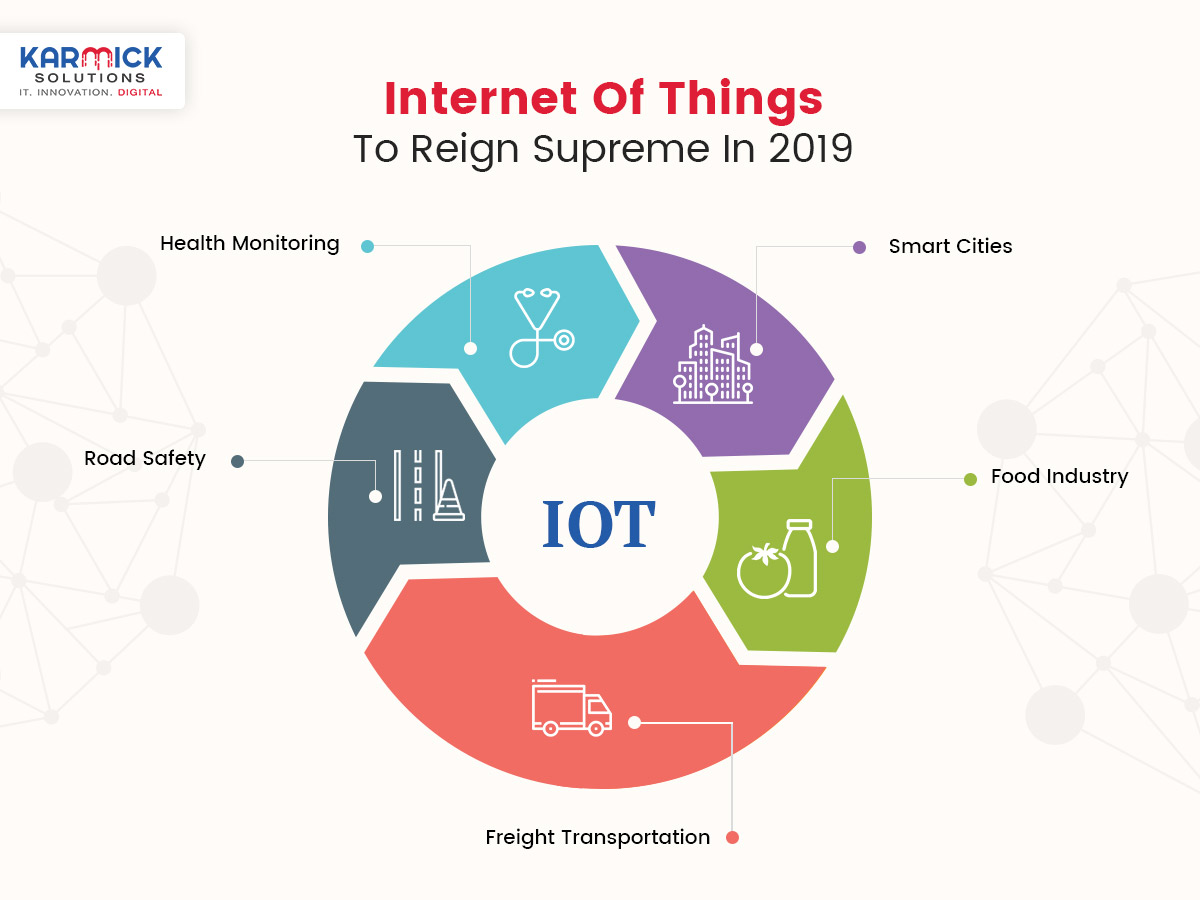 On February 2nd, 76 years old Lee Hartman experienced a piercing pain in his chest all of a sudden! He was sipping a cup of tea while resting on his wheelchair in his one-room apartment.
He struggled to grab the smartphone lying on the table, but couldn't and collapsed on his wheelchair. Soon, a doctor arrived, gave medications, and Lee Hartman regained his consciousness.
The IoT wheelchair on which he collapsed saved his life. The sensors in the wheelchair informed his doctor about his deteriorating health.
Internet of Things or IoT has become a savior for thousands of people who depend heavily on their wheelchairs for mobility. It has revolutionized the healthcare sector by facilitating remote health monitoring like never before.
As per a report 'Consumer IoT Market by Offerings, End-Use Application And Geography – Global Forecast to 2023' published by ResearchAndMarkets.com in December 2018, the consumer IoT market will reach104.4 billion U.S dollars by 2023 at a compound annual growth rate of 17.39%.
It is a misconception that IoT is all about inter-connecting internet-enabled devices. There is much more to the revolutionary technology.
The smart mirror launched by Kohler is a testimonial of its potential. Believe or not, the mirror can talk to you like the magic mirror in the Snow White story! Get weather updates, play music, and even offer motion-enabled lighting during the night. Kohler is a leading manufacturer of kitchen and bathroom products.
Born in a technology-driven world, Generation Z craves for more convenience which gives a massive opportunity to IoT to reign supreme in 2019, and of course in the coming years. Let's have a look without getting into the technical jargon to develop a quick understanding.
Aid in building smart cities
"The Internet of Things has the potential to change the world, just as the internet did." The above quote by Kevin Ashton, a notable technology pioneer is not an overstatement. The reality is that IoT is here to stay for a long period unless and until some disruptive technology replaces the same. At present, escalating demands of the urban population have encouraged several countries to build smart cities, and this can best happen with the use of the Internet of Things. IoT will continue to create new experiences for city residents by rolling out solutions to pave the way for building smart cities where resources will be managed efficiently for improving the quality of life of its citizens.
Transform food industry
For decades, food wastage and contamination have remained the two most important concerns of the billion-dollar food industry. Use of IoT will help to have a feasible solution. IoT sensors for monitoring temperature and humidity levels in cold storage facilities will become common. As a result, wastage or contamination of perishable food items in the food supply chain will get reduced. Some companies that are currently offering such solutions are:
Urbanise (Australia)
Telit (Italy)
Checkit (U.K)
Improve freight transportation
At present, cargo tracking is the most common measure to ensure safety and process efficiency. IoT will enormously help in improving freight transportation. For example, incidents of cargo theft can become a thing of past because warehouse cameras, vehicle sensors, and facial recognition software can become connected. Also, IoT will facilitate the analysis of data obtained from these devices to offer real-time insights for locating misplaced or stolen cargo. The technology has also the potential to find out whether anyone had tampered with the cargo packaging or not.
Reduce number of road accidents
Long hours of driving often cause driver fatigue. Also, over speeding and driving under the influence of alcohol are some of the major reasons for road accidents across the world. There are IoT- based solutions that can make the roads safer. Sensors positioned in front of the driver will monitor the key indicators of fatigue, alcohol consumption or over speeding in real-time. They will then trigger an alarm system in the mobile app of the driver until he or she becomes fully alert. There are also IoT-enabled solutions that can cause seat vibration to alert the driver immediately.
There are many more ways in which IoT will transform other aspects of our daily life and the industries which are crucial for us. Remote locking and unlocking of doors via mobile apps and remote patient monitoring powered by the IoT have already become a reality in several developed nations. Because of the fear of security threats, several businesses are still miles away from leveraging the benefits of IoT. The need of the hour is to become prepared for a full-fledged IoT revolution which many industry experts also term as the fourth industrial revolution.