PayPal Vs Stripe: Which Payment Gateway Is Best For Ecommerce Store?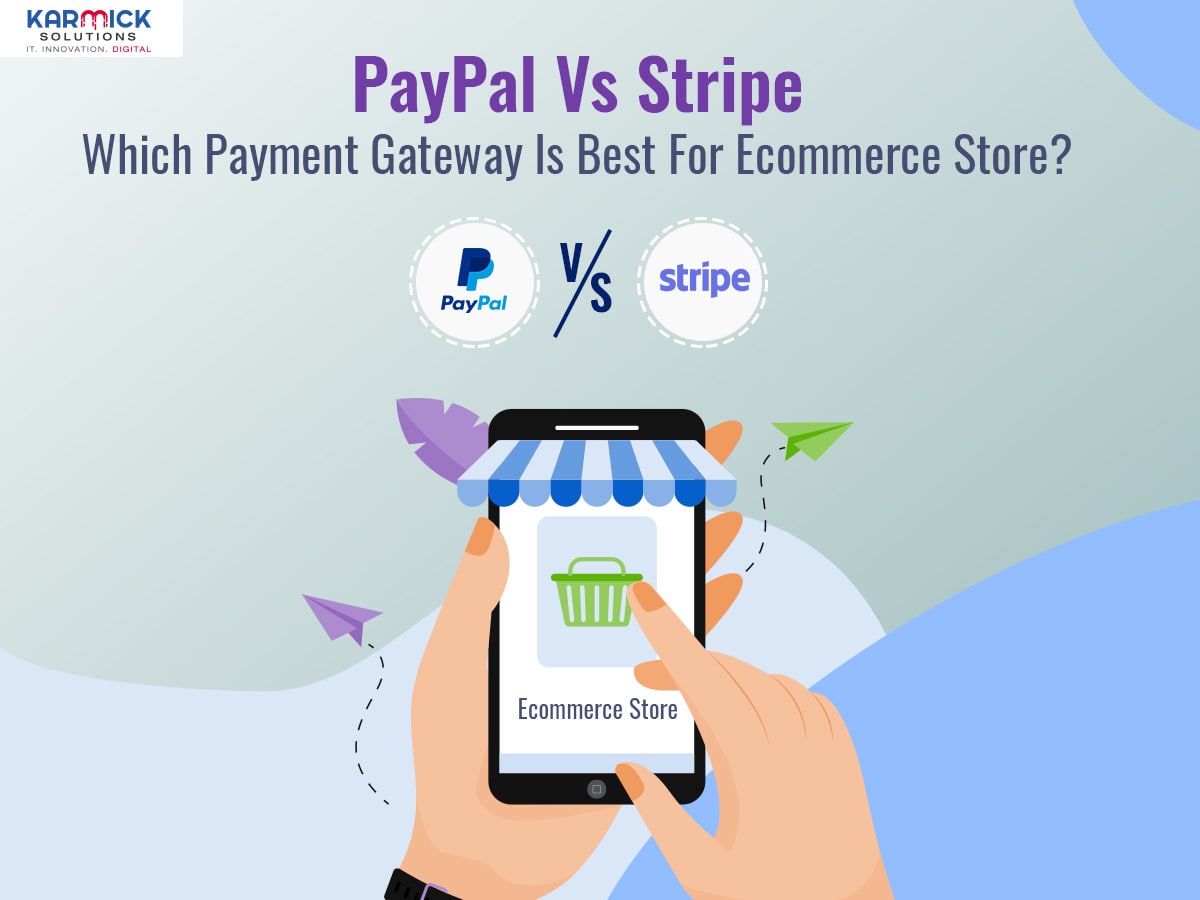 As we are passing through this difficult time of coronavirus pandemic, many stores have been forced to remain closed. This has caused a recent trend of more and more businesses moving to the online platform and many new enterprises emerging in the form of ecommerce stores. However, online shopping and payment is quite different from physical stores where you can simply pay cash or swipe a card. Apart from building an attractive and responsive website, it is very important to handle online payments with the same ease and safety.
Just like Magento and WooCommerce are the first things that popped in your head when we talked about building an ecommerce website; the same goes for PayPal and Stripe when we discuss payment gateways. Before we dive right into which is the better choice for your payment gateway, let us give you an overview of each.
PayPal Gateway
PayPal has been around for more than two decades and is a well known and well established name when it comes to online payment gateways. Going by the reports, as many as 500 million people have created PayPal accounts with over 50 million merchants actively using it all over the world. Big brands such as Netflix, Uber, Airbnb and Spoitfy accept payments via PayPal.
Stripe Gateway
Stripe is an online payment solution which came much later than PayPal but has gained immense popularity in such a short period of time. The reason being it is not a mode of payment in itself like PayPal but a backend payment solution that allows you to collect and pay in online stores. Thus, it appeals most to a team of programmers or individual coders. Although mostly preferred by small businesses, Stripe also has big users like Amazon, Shopify, Slack and Pinterest.
Parameters To Consider While Making Your Choice-
1) Availability Of Various Payment Modes
Although PayPal has been around for such a long time, it only has a select few modes of payment including Debit Card, Credit Card, PayPal Credit and Pay by Telephone. Furthermore, few modes are accessible only on certain minimum value transactions. On the other hand, Stripe has a lot of payment options integrated within itself such as Debit Card, Credit Card, International Cards, Masterpass by MasterCard, Visa Checkout, Google Pay, WeChat Pay, Apple Pay, Samsung Pay, localized payments and more. So considering the range and flexibility of payment modes, Stripe is clearly the winner.
2) Overall Global Feasibility
Due to its years of goodwill, PayPal is available in more than 200 countries while Stripe being a relatively new payment solution is available only in 25 countries. However, Stripe already has support for 130+ currencies across the globe whereas PayPal only supports around 26 currencies. It is also worth mentioning that you can access Stripe in the countries even where it isn't available. This is possible by using its Atlas Service to easily create a US bank account for your business. However, as PayPal is natively available in more than 200 countries and supports all the major currencies of the world, it has a slight edge over Stripe in this case.
3) Customer Service & Support
A sound customer support team is essential to resolve payment related issues on the spot as and when they happen. Even after years of its existence, PayPal still has reports of unresolved customer issues. PayPal has an online community forum, help center and support via phone call, social media, live chat. Even after offering customer care on so many different platforms, customers have reported that it is not an easy task to get in touch with one. Like PayPal, Stripe also offers 24X7 customer support on all these platforms but takes an edge by offering a Premium Support to customers who can pay a small fee in exchange.
4) Security & Reliability
Both PayPal and Stripe are very secure payment gateways and do not compromise on sensitive customer information. High security is needed in such areas because even if a single customer has a bad experience, the reputation of the whole website is at stake. Keeping this in mind, Stripe introduced Stripe.js which can be installed on the website. What this does is instead of handling sensitive customer data on your website server, it will directly be sent to Stripe.
PayPal offers a similar service with its OAuth 2.0 but it requires the data to be passed from your website server to the safe vault of PayPal. This means that if at all your servers are compromised at any point of time, sensitive customer bank details are at risk. So no doubt that both payment gateways are secure, but if you are looking for maximum security, Stripe takes the cake with Stripe.js.
5) User-Friendliness
The main difference here is that at the time of payment, Stripe allows the customer to checkout from the seller's website itself but PayPal redirects the customer to its own checkout page. From the point of view of the seller both PayPal and Stripe are extremely user friendly but here's the catch; using certain advanced features of Stripe can get tricky if you lack a competent team whereas PayPal has specific extensions built for incorporating it seamlessly onto your website. But if you wish to use the simple features of Stripe then all the customer has to do is enter their credit card details and click the submit button. The conversion rate and checkout process is very fast. However, if you already own an existing ecommerce store then adding PayPal checkout is a great option.
6) Cost & Billing
Last but not the least, comes the point of cost and billing for both the payment gateways. As far as the transaction cost goes, it is exactly the same for both PayPal and Stripe. The important thing to note here is what happens in case of chargebacks or refunds. If a customer requests the cancellation of a transaction then PayPal charges a flat fee of $20 while Stripe charges $15, emerging as the more economical of the two.
Conclusion
Areas Where Stripe Has The Edge
Stripe's latest machine learning technology underlying various services such as its anti-fraud system are much too advanced when compared to PayPal.
Stripe is highly customizable and developer-friendly than PayPal. You can give a personal touch to it which is something PayPal lacks. Therefore, it is an ideal choice for branding and can even be considered as a white-label service.
When it comes to reporting, PayPal does have a lot of built-in reports but only Stripe allows you to customize them to get exactly what you need. For instance, with the help of Stripe Sigma, you can ask a question using SQL and get a report on it.
Thanks to its RESTful API, Stripe can be integrated with a host of tools and third party apps using which you can easily import data from Stripe to various softwares. There's also the official plugins for Magneto, Shopify and WordPress. The API provides official libraries for various mobile platforms and programming languages too.
Areas Where PayPal Has The Edge
PayPal is extremely simple and easy to use, unlike Stripe which requires a professional team. So, if you are a brick and mortar store looking to expand your business to an ecommerce website, go with PayPal. You don't need to be from a technical background either.
PayPal has immense goodwill and worldwide trust since it has been around for so much longer than Stripe. It is almost considered as the default mode for payment in ecommerce stores as it has a strong presence in more than 200 countries.
If you already own a merchant services account for your business and want to continue using the same one to process the payments of your ecommerce store too, then PayPal is clearly the better choice.
After this thorough comparison between PayPal and Stripe, you can make an informed decision as to which payment gateway to choose. Just take into account the needs of your ecommerce store and your customer priorities. This shall give you a clearer picture.
With that being said, if you are planning to launch an ecommerce store in the short run, the ideal choice would be to go with PayPal as it is straightforward, simple and secure. You can migrate to Stripe later when you have grasped its complexity which will then make it a very useful and nifty payment gateway. Now is the best time to hire ecommerce development services and take your business online!