Why The Demand For Appointment Scheduling Apps For Doctors Is On A Rise?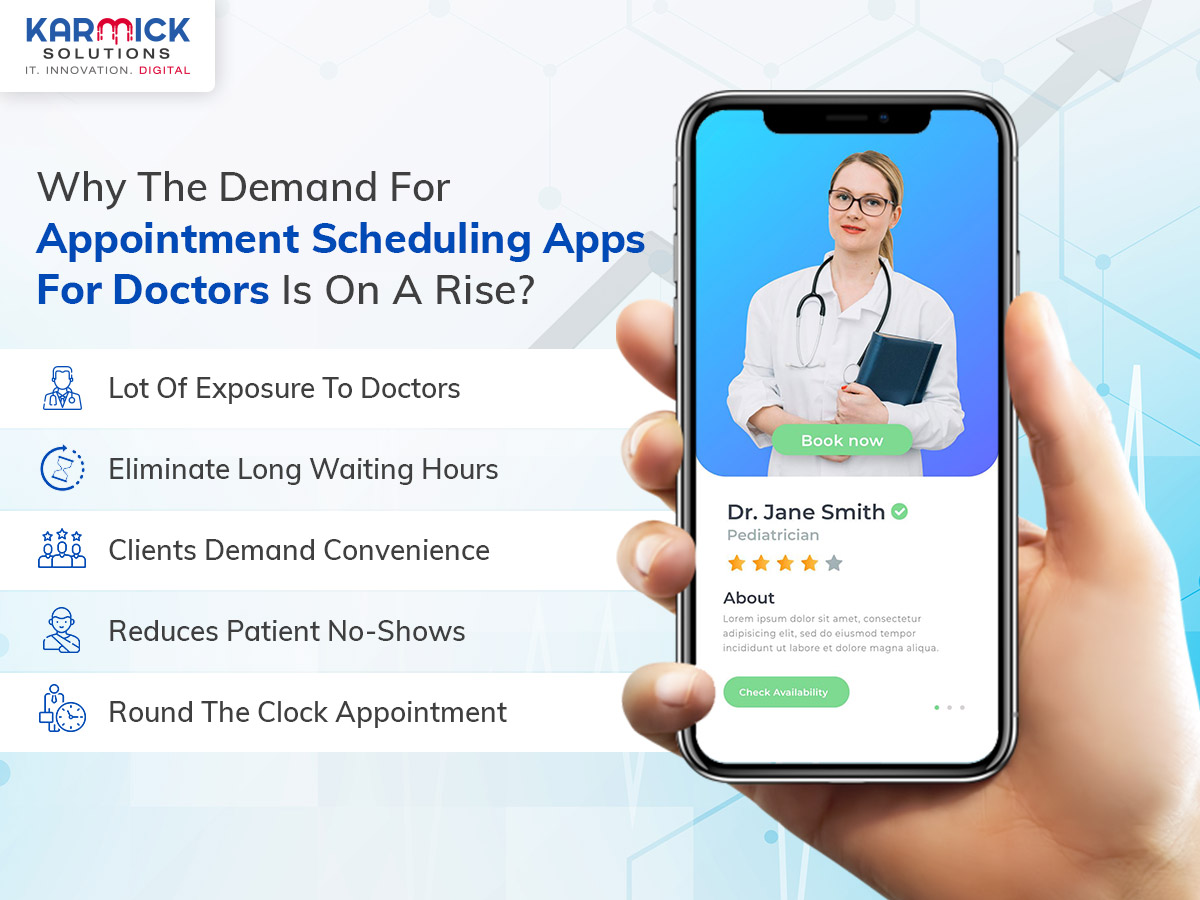 Do you know appointment scheduling apps are excellent tools for streamlining the process of scheduling meetings with potential or existing clients? The irony is that while small and medium-sized businesses have quickly realized the potential of appointment scheduling apps in the growth of their business, the medical fraternity has shown a lack of interest in having these apps. However, the demand for such apps is on the rise. After all, Generation Z has powerful mobile apps for literally everything! Let's dig deeper to know the reasons for which there is a rising demand for these apps.
Lot of exposure to doctors
Rather than sitting in a clinic and waiting for patients, it is best to reach out to them. An appointment scheduling app makes this easier for doctors as profile creation is a vital feature in these apps. Here, doctors are supposed to fill their name, location, specialization, years of experience, photographs, and ratings given by their patients. As more people now prefer to use mobile apps to find a doctor for their ailment, leveraging such an app gives a lot of exposure to doctors and help them to eventually grow their client base.
Eliminate long waiting hours
Do you know 30% of people walked out of a doctor's appointment because of the long waiting time? Are you aware that one in every five change his or her doctor because of the same reason? These are the key findings of a survey of more than 675 online respondents that was published in the 9th Annual Vitals Wait Time Report 2018. So, doctors can surely impress their clients by offering an appointment scheduling app that can eliminate long waiting hours and saves them from unwanted stress.
Clients demand convenience
Be it for booking hotel rooms, playing games, socializing with friends, or grocery shopping, the tech-savvy generation prefers to do all with fingertips. According to the key findings of a survey by GetApp Lab, 50% of respondents still make appointments with doctors, beauticians, or dentists by phone. However, many now find this system much inconvenient. An appointment scheduling app gives them the convenience that they want. No wonder, people now prefer to book an online appointment via their mobile device.
Reduces Patient No-Shows
Sometimes, people forget about their appointments and have to reschedule the same. This happens more when they have scheduled an appointment week in advance. So, rather than getting disappointed, health care settings can use appointment scheduling apps to send them reminders via push notifications. This is a win-win situation for both patients and doctors. While patients can plan their activities accordingly and look forward to meet their doctor, instances of patient no-shows are reduced drastically. Remember, patient no-show also means loss of revenue.
Round the clock appointment
One of the problems in telephonic appointment is that it must be within certain hours when the phone lines of the healthcare facility are open. Most people could not make an appointment after their office hours because when they have the time to make a call, the phone lines are already closed. With the help of appointment scheduling apps, they can make an appointment round the clock whenever they like.
Clearly, there are several advantages of appointment scheduling apps for doctors because of which there is now a tremendous demand for these apps. So, if you are an entrepreneur who wants to develop a doctor appointment app or have a similar app idea, get in touch with an app development company to hire a team of skilled developers.