The EVENT Finale
By reading the last blog, you must be thinking that the program was on the verge of conclusion as the award ceremony came into the picture.  But, how could you expect an event to be over without the Fashion Show, which was the highlight of the entire program? The Karmick team really worked hard to put up an awesome fashion show for the audience. It was one of the most happening shows of our office. The fashion theme was on Durga Puja, Bengal's most happening festival. Keeping in mind the season 'Sarat Kal' (Autumn), the choreographers introduced the festive spirit mood in form of cat walk on the ramps. The performers of the show made the entire hall mesmerized with their awesome style and grandeur. Walking on the ramp like professional show walkers is just not everyone's cup of tea. Kudos to both the Karmick crew who groomed all the 15 performers to put up a grand show on 24th September 2011!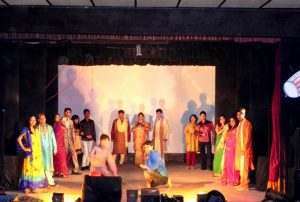 The program would have never been framed properly unless our CEO Mr. Roy hadn't arranged for a lunch buffet treat for everyone. It was truly an awesome treat for the Karmickans and their family members. Each of us simply savored our taste buds with the sumptuous meal that was served. It was just not an afternoon gathering but a real appetizer party as well. Depending on the number of guests and employees, and also the event list, the time allotted for the banquet was at 2.p.m. This timing was well suited for every one as they could enjoy the food thoroughly. You must be thinking what was there in the menu card that savored our palates? The menu started with fresh green salads, starters, fried rice(veg/non-veg), paneer, alur dum, chicken kasha, and desserts (chatni, papad,  rasgullas,  ice-cream).  It was a complete 'Bangali Bhoj' (Bengali luncheon) arranged by Karmick Organizing team.
This is just not the end because then came up the most awaiting performer with his most energizing show. This vibrating and pulsating performance was executed by one of the famous singers of Tollywood, Sujoy Bhowmick. He was accompanied by his co-member, who equally performed outstandingly well.
As this was the last show, it was very difficult to stop the crowd from tapping their feet with the awesome dance numbers.
Last but not the least, a big THANK YOU to the entire Karmick crew and specially our CEO for making this 12th annual foundation day an outstanding one!
So, 'Come, let's Roll Up our Sleeves and Rock it with Rhythm' for the next year again!
—-Ajanta